---
Saturday 27th May 2000
I had been watching the forecast for the coming weekend with intense interest. The Bureau of Meteorology was forecasting a significant cold snap over Eastern Australia with snowfalls down to 1000m on the Central Tablelands. Finally a chance to get out west and see some snow on a weekend! And with the first front expected to pass through Oberon at lunchtime on Saturday, I had the time to get out there before it came through and before the roads were closed as a result.
I hit the road at about 10am full of expectation. After an uneventful trip over the Blue Mountains I arrived at Little Hartley, where I turned onto Jenolan Caves Road to climb back up onto the ranges. Itís at this point that the tension started to build. I was getting anxious about it being closed in expectation of the coming weather, but I was relieved when I got up to Mt Morris to see an open road! Home free! I have lost count of how many times I have been turned back here by the police or ses after snow falls.
From that point it wasnít long until I came across the first snow on the side of the road. Then my car started to get pelted with tiny ice pellets. These showers of ice continued on and off for the rest of the day. I drove straight into Oberon (1100m) and decided to stop and get something to eat. The first front hit while I was in the pie shop. The ice suddenly gave way to big dry powdery flakes of white gold! I couldnít believe it was really snowing! But alas, after only about 5 minutes it completely stopped and it never snowed again for the rest of the day. Damn, they call that a front!
With a full stomach I drove out to Shooters Hill (1354m). I was hoping that with the extra altitude I would see some decent snow accumulations.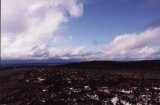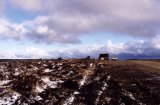 But it wasnít much better than Oberon. For the rest of the afternoon I cruised around in the pine forests taking photos and checking out the snow falls. I canít decide what is more beautiful, pine forest or eucalyptus forests under snow! At about 2pm I stopped and got out my thermometer on a freshly logged hill and took the temperature, it was +0.5. For the rest of the day I drove around the Shooters Hill area looking for snow. When it started to get too dark I decided to go back and stay in Oberon overnight in the hope that Sunday would bring better snowfalls.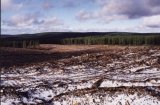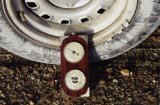 That night, there were more brief flurries of powdery snow but no major falls. The temperature dropped to about -5 and the wind howled all night. The next morning Oberon was whiter but it was still not pure snow. The cold overnight temps and the wind had produced a nice layer of ice on everything. I nearly went over about 10 times just trying to get to my car!
Speaking of which, now is a good time to mention the effects of ice and snow on cars for those who donít normally drive into these conditions. Itís one thing to drive into a snowy area when your carís engine is already warm, but when you park it overnight in these conditions you need to have antifreeze in your radiator or you could crack it or your engine block as the water freezes and expands overnight. Also it helps to pour warm water over your fan belts (carefully not to get it on anything else) because they can have a tendency to stick like mine did! (Not to mention the handbrake!)
Sunday 28th May 2000
As soon as the car warmed up, I drove straight out to the lookout just west of the town and surveyed the nightís snowfalls.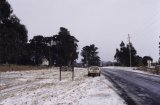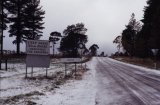 I had been through here many times but I had never seen it like this. From there I drove back out into the freshly logged forest. What an amazing sight it was today. The snow wasnít deep, but it was everywhere you looked, and combined with the low cloud it really gave me the feeling that I was in a completely different world to what I was in yesterday.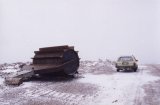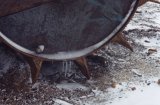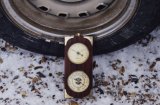 I headed back up to the hill were yesterday I had taken the temperature at 2pm. This time it was -0.5 and visibility was down to about 250m. From there I headed into the old growth pine forest back towards Shooters Hill. I was looking to get the perfect lonely snow covered road lined with tall tress photo.
From there I drove through more forest until I came to a logging camp where they were stacking and processing the logs ready for transport, and then back onto the main road. After driving around most of the morning without seeing another person, I came across another car in the forest full of people checking out the snow, it seems I wasnít the only snow chaser out here after all!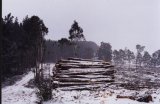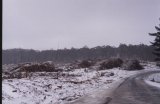 It was starting to get late and I eventually had to go back to the other world in Sydney and resume my "normal life". From Shooters Hill I drove back to Lithgow via Tarana. At Lithgow I stopped in at KFC for some sustenance, and from there I took my meal up to Hassans Walls (1100m) to check out the view south before I headed back. It was to cold to eat outside, so I finished my chicken in the car before getting out to have a look. I was hoping to see snow covered mountains to the south, but I was disappointed to discover that the cloud had ruined any photo opportunity. When I looked the southwest, I noticed that the cloud had become intensely darker than it was anywhere else, but at the time I thought nothing of it.
I jumped back into my car and started to contemplate which way I was going to head back. I decided to head back via Bells Line of Road as the mountains are higher there and so the chances of seeing better snow was a lot greater. But before I could leave it started to rain ice pellets again. Only this time it was a lot heavier than I had seen it all weekend. My first reaction was to turn off the engine and wait to see what was going to happen. I got back out of my car and looked back towards the south west and was gob smacked when I saw that the dark cloud area I had seen before was now nearly on top of me. And man, did it look menacing! I got back in my car and waited. And then it HIT! Powder snow started bucketing down heavier than I had ever seen. I grabbed my camera and ran back to the lookout, and climbed into the cave. (For those who have never been there, there is a small cave you can sit in right on top of the cliff face looking east.) I took a couple of pictures and woo hooed for about ten minutes!!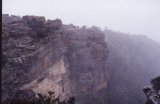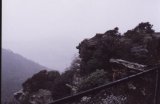 .
Now what was I going to do? The bestest, biggest, meanest front of them all had just arrived and it looked like it was going to absolutely dump snow. But time was running out to leave and I had to work the next day? Snow, work, snow, work, snow, work. Stuff work, I want to see snow! The decision was made, I can work any day, but snow like this, I might not see here again for years. And besides, I had the perfect excuse ďsorry mate, but they closed the roads and I couldnít get back!Ē The line had been crossed. I run back to my car, jumped in and headed back to Lake Lyle. I knew that Jenolan Caves Road would be closed for sure, but they never close the road from Lake Lyle to Hampton.
As I drove up onto the range behind Lake Lyle the snow became heavier and I knew at that point that this was a major frontal system passing through. I turned left onto the Hampton/Rydal road and headed south to Hampton. I knew that going this way, I would be able to get behind the roadblock that they always erect at Mt Morris on Jenolan Caves Road and I would be able to head back to Oberon.
The next 30 minutes are among the most exiting and the most terrifying I have ever experienced. The snow started getting heavier. Visibility was getting lower with every kilometre I travelled. The grass on the side of the road was disappearing and then it was gone. I was driving along a ridge that was completely exposed to the west; visibility kept dropping. I was following the lines on the left side of the road and driving slower and slower and then the lines disappeared under the snow, so I followed the middle lines to stay on the road, and then they disappeared. I was straining to make out the black bitumen under the snow and then the whole road disappeared and my forward visibility dropped to about 20 meters!!! I couldnít see anything, not picket posts or fences, nothing but white. It was a complete white out and it was at this point that I started to panic. It was supposed to fun, but at this point I was scared beyond belief.
I was now virtually crawling along at a snails pace. I didnít know how close I was to Hampton but I knew that I couldnít stop until I got there, and then on my right side a row of trees came out of the white and immediately the wind dropped, the snow started falling straight, the picket posts came back out of the white and I was still on the road. I had driven into a forest and out of the blinding blizzard back on the exposed ridge. I let out the biggest woo hoo that has ever come out of my mouth. The visibility was still bad, but at least now I had something to use a guide. I drove for a couple of more kilometres and the road turned down a hill and off the ridge and I came across the T-junction with Jenolan Caves Road. I had made it to Hampton.
The traffic on JCR was amazing. There were dozens of cars trying to get back to Sydney from the caves, and as I learned later, the road was closed at Hampton Hotel so everyone was forced to stay there the night. They had people sleeping on the floors! I decided that Oberon would be the best bet for accommodation, so I headed back that way. The drive back was amazing. The snow was so heavy and it was pure dry powder snow. Unfortunately I didnít get any photos of the blizzard. I just wanted to get to Oberon ASAP and it was too dark to handhold the camera anyway.
Once I got back to Oberon, I drove around town for a while until I lost it at an intersection and nearly did a 360 turn without trying! I decided that it would be safer to call it a night, so I pulled in at the first motel (actually I slid into there driveway at a 45 degree angle). The owner thought it was amusing! After the obligatory phone calls to my boss and my parents to let them know what had happened, I kicked back and watched cable TV.
Monday 29th May 2000
The next morning I woke up to a winter wonderland!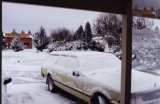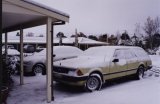 It was amazing how much it had snowed. Driving was out of the question, so I grabbed my camera and walked around town.
The snow was on average about 20cm deep and there were drifts up to about 60cm! I spoke with a local woman who was out walking like me and she said that she hadnít seen snow like this in at least 10 years. On the main road into town I came across a car on its side! It had slid out of control and one side had gone up onto a retaining wall and it flipped over. You could see that they had to smash the back window to get out.
At about 12pm I decided to try and get out. I jumped in my car and headed out to the lookout.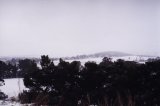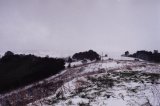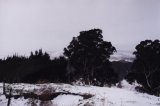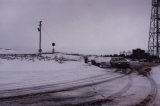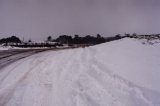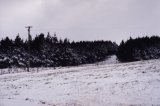 . It was there that I found a drift of snow around 100cm deep on the lee side of the hill! I decided that it would be to dangerous to head south again on icy roads, and being satisfied that I had seen the best of the snow, I decided to head home via Tarana. That way I could get out of the snow quicker and back on to safer roads. Plus all the roads leading out of Oberon were still officially closed and I didnít want to get pulled over and told to go back.
On the way back the road drops off the range down into Tarana and I stopped to take some pictures of the snowline on the ranges.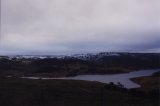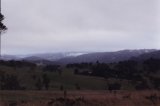 All up my snow chase lasted 3 days and covered hundreds of kilometres. During that time I was happy, excited, amazed, overjoyed, blown away, disappointed, terrified and anxious. It was a time that I will never forget. To live on a hot, dry continent like Australia and yet still be able to experience an event like this only 200 kilometres from a major city like Sydney is amazing, and something I hope to be able to do again.
I would like to give anyone whoís contemplating doing such a trip some advice. I do not encourage anyone in any way to do anything that I did on this trip. What I did was at my own risk and it is a risk that is very real. The most dangerous thing about snow chasing is the driving itself. You are driving on roads with ice and snow so be careful and drive ultra cautiously. Hypothermia can kill, even in this country, so take what you would wear on top of Mt Perisher! And make sure your car is up to the journey; you donít want to break down in the middle of a state forest at -10 degrees. Take chains or preferably take a 4wd vehicle. The car I drove was a 2wd but it had a Limited Slip Differential so traction on muddy roads was not a problem, but with a normal diff only one wheel has traction and you can get bogged very easily. Also rear wheel drive vehicles are better than front wheel drive for traction. And make sure you have Anti-Freeze mixed in your radiator at the right pe! rcentage. And lastly, have fun and enjoy the snow!!!
---