---
Other reports on this event by [James Chambers] and [Ben Quinn]
Sunday 9th July 2000
A brilliant shelf cloud moved in to my location at McLeans Ridges (in NE NSW) from the W-SW ahead of and with a line of storms aligned N-S from about 4pm. Incredible turbulence and perfect contrast with the low sun gave great colours. On the southern edge there was a large prong and this passed over Lismore with very heavy rain and possible hail. Hail was reported earlier between Casino and Lismore.

This line of storms had looked rather weak and 'wintry' in appearance with wispy, relatively low tops at about 3pm. However much larger towers punched through on approach and preceded the shelf cloud formation and frequent lightning. The storm weakened quickly just as it hit my place about 4.20pm with brief strong W gusts followed by light to moderate rain.
---
Monday 10th July 2000
Very large storms developed out to sea early and persisted well into the afternoon. To the west a cloud band dissipated prior to storm development on the ranges early afternoon. The storms from SE QLD propagated into NE NSW moving towards the SE. Large congestus shot up in front of the storm cluster with ragged base features soon coming into view. By about 3pm a shelf cloud began form from my W to N, stretching probably 20-30 kilometres N-S. Frequenct CGs occurred behind this mostly to my W. The shelf cloud developed beautiful laminar bandings while the leading edge had an incredible turbulence and boiling affect to it. Cold W gusts hit just ahead of heavy rain and very close CGs. I could see the shelf cloud advance to the E and spread over Byron Bay and Ballina. Again the storm seemed to lose intensity at my location, though the system was much larger than the day before and lightning persisted longer.
---
Observations by Stuart McDonald at Alstonville
We had a bit of a surprise Sunday 9/7/2000. After Church I was told that the North Coast was expecting storms this afternoon. My comment was that the sky looked like it too although the sky was clear but there was that haze and there was a feeling that something was going to happen. By 2pm this afternoon I noticed a cell down to the distant south and gradually it moved closer and revealed a flanking line. Later on in the afternoon I went for a walk and had a good view of the cell which by now was much closer. There was occasional thunder even while the storm was some distance away. By 4pm the cell extended from the SE to the WSW and was closing in. It seemed to be moving fairly quickly. In about half an hour the leading edge of the cell was over head and there were some interesting looking thin bands of lower cloud against a back drop of a lighter upper level cloud which would have been the leading edge of the gust front. A fairly organised shelf cloud followed from the SW and behind it a rain curtain but the cloud took on a golden appearance. I had the impression that part of the storm had more of an effect down south. In other words where we were we might not have coped the worst of the storm. It looked like someone was getting some hail but it was hard to tell. We didn't get any our selves. As it approached it started to weaken. I noticed as it approached there was sheet lightning as well as forked lightning however the thunder wasn't all that loud. As darkness fell the storm continued to weaken and we were left with some light rain and I wouldn't be surprised if it had cleared not long after. We had 4mm of rain out of that storm.
This has continued on to the next day and again another storm in the afternoon. I was at work and first noticed the storm a bit after 1:30pm. I seemed to move fairly quickly east and by 4pm after I finished work I noticed a shelf cloud approaching and there was a rain curtain behind. This storm seemed to be more intense than the one yesterday but the lightning and thunder was average although I saw some good spikes. It soon eased and like the other storm left us with some rain. We had 13mm out of this storm.
On Tuesday a low was developing off the coast but it didn't seem to last too long. It was interesting how quickly storms developed off the coast during mid morning and dissipated nearly as quickly. I heard some deep rumbling around mid morning and there was some spits of rain but not enough to put in the gauge.
---
Radar
These images from Bureau of Meteorology
Grafton local scale 200007090240 - 200007090850z (12.40pm to 6.50pm local)
Grafton local scale 200007100300 - 200007100750z (1.00pm to 5.50pm local)
MSL Analysis Charts
These images obtained from Bureau of Meteorology.
1pm local 9th July 2000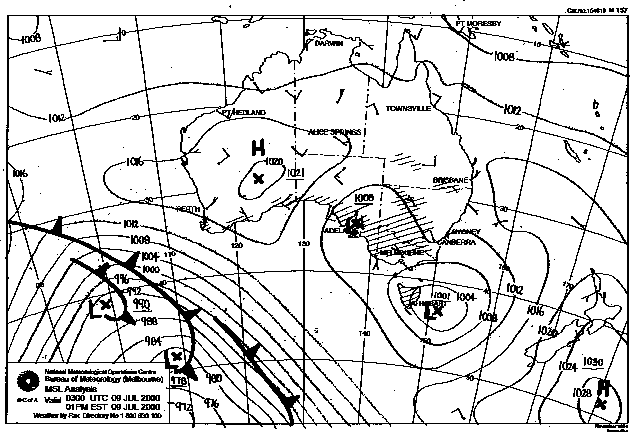 1pm local 10th July 2000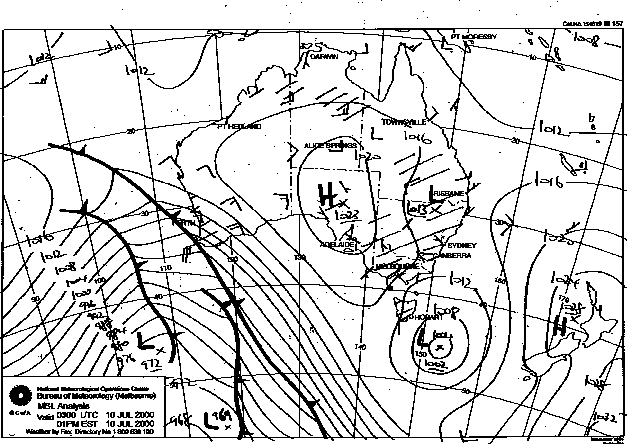 ---