---
What a wonderful afternoon it has been. The chase began this afternoon around 2:00pm, after a quick check of the radar. I noticed the band of showers making its way due north up the coast, around Batemans Bay, and remembering the past emails about the coldest pool of air being due today, I was off.

Firstly it was down to Saddleback Mt, just south of Kiama in the Illawarra, and it was obvious that the change was on the way up the coast. On the way to Kiama there was some good cb's showing in front of the main cloudbank.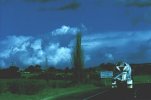 After I got to the lookout at around 2:40pm, the view south was okay, plenty of cu, but the cloudbank seemed to be slow moving. Interestingly, there seemed to be some snowy/showery looking clouds travelling over the escarpment west of Nowra, from a SSE'ly direction. I decided that there might still be a chance of snow after all so headed down through Jamberoo, up Jamberoo pass and on to Robertson.
Arriving at Robertson, and taking a couple of snaps along the way, things were looking decidedly better to my south. I stopped to grab a pie from the Robo pie shop and drove just west and sat back to wait for the front. I called Jimmy Deguara also to see what was happening and to report some nice frontal features with the hint of snow on the way. After a short while the guster took shape with the steep valleys south contributing plenty of scud to make it look great, but it seemed to be slipping SE, so I drove back to a point east of Robo and sat back.
It didn't take long, around 3:55 the front passed over and as I stood outside the first shower of around 2-3mm hail fell.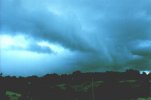 The temperature dropped to what felt like freezing instantly, and the next shower started as mushy rain, then large snow flakes fell, mixed with periods of light slush. About this point things start to get hazy as the full grip of chase fever took over. After a short while it seemed to be settling back to mostly rain so I decided to head for the higher ground again.
When I arrived, there appeared to be snow on the ground, but instead it was drifts of hail, mostly 2-3mm, but a few getting up to 5-7mm. As I waited the first heavy snow shower moved in. The next twenty minutes up to 4:45pm saw snow mixed with light showers, which I again reported to Jimmy, before the gods answered my calls and suddenly everything went white. Within twenty minutes the ground was white, my car (very dark grey) was white, and the flakes were getting bigger and bigger. Also, my film was getting lower and lower as I hooted and hollered as things went progressively whiter and whiter.
Around 5:10 I drove back to Robertson and picked up more film, then headed back to the same spot. Snow was falling heavily in the township. Extremely heavy snow then continued to fall until about 5:40 by which time a good 3-4cm had settled on the ground.
The snow was completely dry, large flakes, which compacted greatly when I made a snowman on the back of my now white car. The road was also covered in about 3-4cm, even where traffic was going over. So with it easing up to light snow, getting dark and me getting worried about being able to get out if the roads got much worse I headed back down Macquarie Pass to Wollongong. Snow had settled all the way to the top of the pass. I arrived home at 6:30, dry warm and with a buzz that'll carry me through for a while yet.
---