---
The morning at first looked very promising with plenty of altocumulus castellanus locally, and congesting cumulus bubbling up and down on the ranges to the west. An obvious moisture haze was present and temperatures were rising quickly.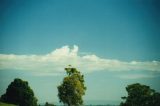 By midday only a few larger cumulus gave a nice developing look to them, but even those did not last long.
However, further south from my location at McLeans Ridges (east of Lismore), low topped storms developed within about 50km from the coast, then developed quite a bit more as they neared and crossed it, probably reaching 9-10km in height. From Coffs Harbour to south of Evans Head (refer Grafton local radar below) it was quite active from about 1.30pm onwards. I went out for some observations and saw some interesting lowerings on a fairly large cell to the far south. A line of cumulus congestus persisted on an east - west line from this and edged a little further north later in the afternoon. This ended up giving a very active lightning show from 6pm well into the evening as the cells continued to the distant east.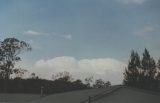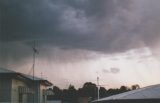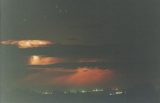 Some photos taken from near Grafton (first 2) and near Ballina by Steve Baynham
---
Observations from Grafton by Peter Tristram
I spent the day in Grafton where 2 storm systems were observed about an hour apart (nice wall cloud on the 2nd). Both looked far better developed to the south and I've heard that many places between Coffs Harbour and Grafton had spectacular lightning with many ground strikes and heaps of small hail. It hailed briefly at the soccer trials where I was at 3pm then that was the end of the action. My daughter was travelling south from Coffs at about 1:30pm via motorbike and she and her boyfriend had to head to the service station at Boambee firstly to get shelter from the amazing CG lightning and then to avoid the hail. Evidently a car and trailer under a carport nearby got frazzled in a strike - local news this morning.
The storms passed along the mountain range from Dorrigo missing the Bellinger Valley where I live.
NOTE: At Sandy Beach, north of Coff Harbour and just south of Woolgoolga, witnesses described a 'mini-tornado' which struck around 1.30pm local time. Apparently a roof was torn from a house during a brief period of severe weather. The radar clearly shows this cell developing west of Coffs Harbour from 0300z (1pm local). - MB
---
Radar
These images from Bureau of Meteorology
Grafton local scale 20000820140 - 200008200740z (11.40am to 5.40pm local)
Satellite Image
This image from Satellite Remote Sensing Services, DOLA
4.40pm local 20th August 2000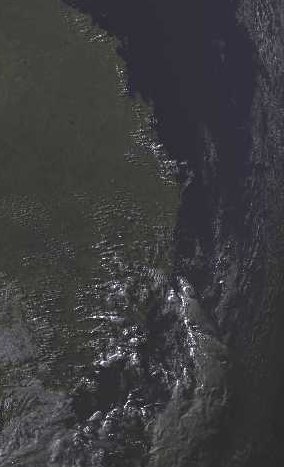 ---
MSL Analysis Chart
This image obtained from Bureau of Meteorology.
1pm local 20th August 2000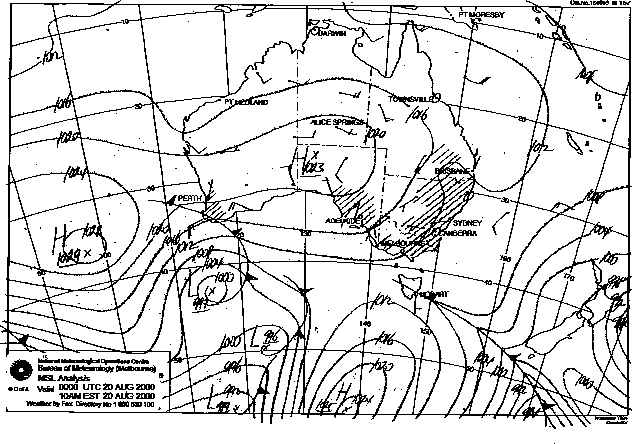 ---