---
SE QLD report by [James Chambers]

After a morning of clear skies, cumulus rapidly developed into cumulonimbus just before noon. I was surprised to see how quickly these formed from nothing only minutes earlier.

Weakish storms developed to the northwest near Kyogle and tracked southeast towards Lismore.

A couple of fairly weak cells passed through the Lismore area with brief heavy showers and small hail. All the storm cells observed were relatively low topped and very much pushed over in appearance, with little substance to them. All appeared to be a result of a very rapid updraft with beautiful boiling cumulus reaching to about 10 km in height, then being pushed over and glaciating. A relatively small base remains on the NW flank with 'steps' of cumulus rising to the SE (the direction they are rapidly moving towards). This SE side contained very little cloud, just some precipitation from higher levels. Besides this though, the updrafts looked quite spectacular with base lowerings, back shearings and quite a bit of CG activity. A storm that passed near my place at McLeans Ridges around 1pm had at least a dozen long rumbles of thunder from close CGs.

From around 2.45pm onwards activity remained mainly near and off the coast with much larger cells developing. It was quite a spectacular sight as the huge cells of storms developed in a line just offshore, slowly propagating eastward.

18:00 EST Ballina

At the Olympic Torch Relay celebration at Ballina, the cumulonimbus just off the coast gave a fantastic lightning show as a backdrop to the event. The line of storms extended from east of Ballina to the distant north.
---
Radar
These images from Bureau of Meteorology
Grafton local scale 20000823100 - 200008230550z (11.00am to 3.50pm local)
Satellite Image
This image from Satellite Remote Sensing Services, DOLA
4.00pm local 23rd August 2000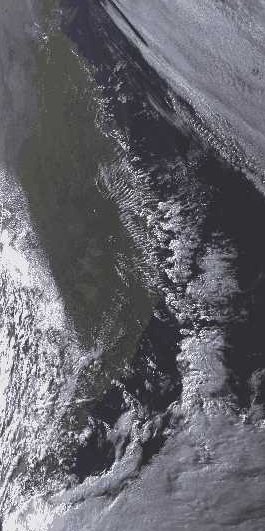 ---
MSL Analysis Chart
This image obtained from Bureau of Meteorology.
1pm local 23rd August 2000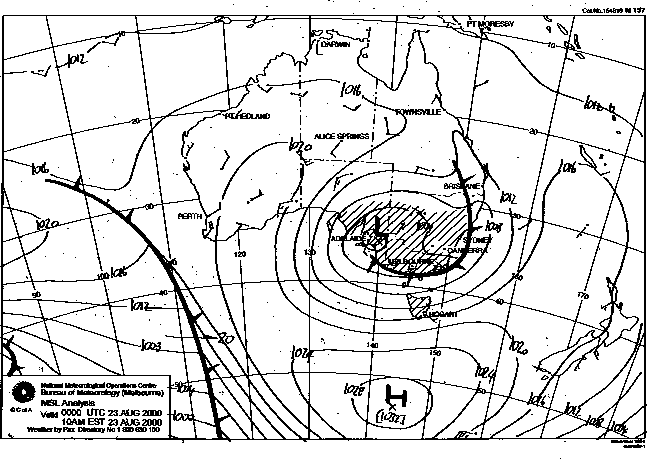 ---