---
After a month of very warm and dry conditions with occasional days of strong W winds, it was nice to see the return of some thunderstorm action.

Observations in this report are from McLeans Ridges near Lismore, unless otherwise noted.
Thursday 21st September 2000
A warm sunny and hazy day with northerly winds tending fresh easterly by afternoon. To the far south, weak thunderstorms developed west of Coffs Harbour and edged northwards, but were not visible from my location. High cloud then weak thundery showers spread in from the south during the evening. Quite cool and fresh S-SE winds accompanied a shower of rain consisting of quite large drops. Only 0.8mm was recorded and three bolts of lightning observed, but finally a change in the weather.

Grafton local scale radar 21/09/2000 0800 to 1300z (7.00pm to midnight local)
BoM MSL 21/09/2000 12z
Friday 22nd September 2000
A very warm and sunny day with temperatures reaching 30C in the area. Cumulus congestus developed over the Nightcap Range to my north at first, then on the border ranges from NW to N by mid afternoon. One cell glaciated as it attained a height of about 6-7km, then tracked NNW into Queensland and was obscured by other cloud.

All clouds dissipated from about 4.30pm, just as Jimmy Deguara and Mario arrived from an unsuccessful storm chase day.
For a SE QLD chase report, read the account by Anthony Cornelius
BoM MSL 22/09/2000 12z
Saturday 23rd September 2000
A very warn to hot day for the ASWA and SARC BBQ at McLeans Ridges. A great turnout with 23 in attendance from Brisbane, the Gold Coast, Ballina and Lismore. You can check the photos here.

Some cumulus developed during the afternoon to the far W and SW, but did not develop further until much later. During the early evening some weak convection on the eastern parts of the Northern Tablelands got going, and tracked NNE. Some distant lightning was observed. A weak SE change arrived about this time as well.
Grafton local scale radar 23/09/2000 0900 to 1120z (8.00pm to 10.20pm local)
BoM MSL 23/09/2000 06z
Sunday 24th September 2000
The AVN model data from the evening before showed potention storm development for today, but as had been usual recently, it was scaled back to the slightest of chances once the 18z data came in. Some stratocumulus had developed before dawn but quickly dissipated by 9am. We were left with E-SE winds and a few cumulus humilus for the rest of the day. However, around dusk cumulus and altocumulus castellanus developed and spread in from the SSW. A couple of light showers were observed.
BoM MSL 24/09/2000 06z
Monday 25th September 2000
This day was much cooler with total cloud cover and drizzle later in the day. Some larger cumulus near the coast gave some shower activity.
BoM MSL 25/09/2000 06z
Tuesday 26th September 2000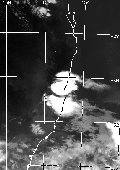 This was a frustrating day, but a great night!. I had high expectations of storms but no clouds were visible at all until late in the afternoon, and even then it was only some high cloud from storm remnants. Grafton local radar showed storms had developed W of Coffs Harbour by mid afternoon, but they barely moved.

Left: NOAA AVHRR image at 5.45pm local courtesy of CSIRO Marine Research. Click on it for a larger view.

Later on and now into the evening, distant lightning was apparent to the far south. After some prodding from the anxious SE QLD'ers I ventured out with the camera gear to the southern side of the Alstonville plateau I live on to set up. Cells had propagated northwards to be from NW of Grafton to the coast, but this was still about 80km S of me. There was plenty of lightning but a layer of mid level cloud between me and the storms meant I could only see the glow at the top of the cells, and the CGs coming out the bottom.

The photos were taken with a 50mm lens and as you can see, it was just too far away and the mid-level cloud in the way spoilt them. Star trails are visible in the top half of the photos. The orange glow in number 4 was from a cane burn W of the shot.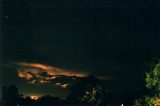 Activity intensified as a larger storm crossed the coast near Yamba about 9pm. Radar shows this veered markedly to the N to track parallel to the coast, it also picked up speed. I drove back home hoping the lightning would pass E of my place at McLeans Ridges and give me a good show.
It was after 11pm before the activity got close enough to set the camera up again. In fact another cell had formed NW of the main one over land NNW of Ballina, and about 10ks E of me. It was just going berserk ! CGs were every few seconds and in full view. Finally a chance to get some lightning pics - the first I have taken in 2000. The show went on for an hour before fading away. I was happy after that !!
Grafton local scale radar 26/09/2000 0300 to 0930z (2.00pm to 8.30pm local)
Grafton local scale radar 26/09/2000 1000 to 1450z (9.00pm to 1.50am 27/9 local)
NOTE: images for 0620z, 0800z, 0900z, 0920z, 0940z and 0950z are not available.
BoM MSL 26/09/2000 12z
Wednesday 27th September 2000
The sky had a good feel to it during the morning, with a lovely moisture haze, light to moderate N winds, and forecasted LI and CAPE of -5 and ~1000. A few tiny altocumulus clouds were observed during late morning, otherwise it was clear until the early afternoon.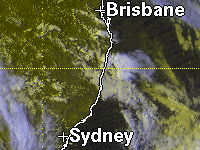 Click on the satpic for an animation of VIS enhanced imagery for 21z to 07z, courtesy US AF Weather Agency.
From about 1pm congestus rapidly formed to the W. I headed out to get a better look. Convection started to dominate in the southwestern sky by about 1.45pm with a large storm system developing, but heading ESE further away from my location at Tregeagle (SE of Lismore). A rapid rock solid updraft punched up NW of the first storm and quickly glaciated. It would have reached at least 13-14km in height. Bases on all cells observed were fairly high with small precipitation cores. All the activity slowly edged towards the coast near Yamba.
Halden Boyd reported that a hail drift occurred at Palmers Island (W of Yamba) around 3pm, consisting of marble sized hailstones. He also captured these digicam pictures between 2.24pm and 3.42pm from Evans Head and Woodburn. He photographed the same storms as me, but looking W and NW into them, rather than my view of S and SW.
After about 3.30pm conditions were less favourable with just congestus popping up around the district with some thundery showers passing over Evans Head later. Anthony Cornelius dropped by after a long chase and Ben Quinn and Jason Rainforest came down to Ballina but unfortunately for them, the best activity passed out by mid afternoon before they arrived. Although they did see plenty of CBs and CJs. Read the account by Ben Quinn who also did this radar loop.
Grafton local scale radar 27/09/2000 0240 to 0820z (1.40pm to 7.20pm local)
BoM MSL 27/09/2000 06z

Thanks to Anthony Cornelius for archiving the graphics.
---