---
Paul Graham and myself had high hopes for the 26th based on the model prognosis five days earlier: sharp upper level trough to move into NSW; a deep low was favoured to develop over Victoria / Southern NSW and a strong cold front to move into NSW later in the day - a set-up very similar to that which produced a tornado outbreak in our target area of NSW on the 29th September 1996. By the 25th, the models had eased of this scenario although it still looked favourable for severe storms. I, like most Sydney storm enthusiasts, was awoken from a deep slumber at around 3:30am on the 26th by booming thunder from an electrically active cell which moved by to the north of Beacon Hill. In a semi-stupor I dragged myself to the loungeroom, window - the flashes were brilliant and the resonance from each boom was just perfect to set the whole house vibrating!.

The next thing and it was 8:00am; the latest situation revealed that an inland trough was developing following the passage of a SE change up the NSW coast (the change itself triggering the Sydney storms earlier in the morning). After a chat with Paul we decided to meet up at his place and from there we would head to the town of Singleton, some 160km to our north and with good road options. Heading north from Sydney at about 11:00am, an extensive mid-level cloud band was a concern although turrets of castellanus were a welcome sight in any clearing. Jimmy Deguara, was also heading north on route to his target in the Mudgee area, suggested we meet for lunch in the upper Hunter town of Muswellbrook. We made a lunch stop and by the time we were done, flat looking altocumulus were all that persisted in the middle layers. I have to admit I was ready to call it a day (we busted in this same area the previous week). Luckily Jimmy insisted that we head to a vantage on the north end of town. Just outside of Muswellbrook and we watched three hard towers going up over Barrington tops, 50km to out ENE - wilderness rather than chase country. These soon fizzled in anycase so we focussed on the several lines of towering cumulus evident to our west. Although nothing looked all that promising the decision was made to head west towards Sandy Hollow (all beautiful chase country from the upper Hunter - Merriwa - Mudgee).

This was a turning point of the chase. We pulled off the back road and watched some tired stuff attempt to fire up to our west. Jimmy then made the call to commit further west and move towards Dunedoo (central west slopes and plains - about 2 hours further west). After driving through Merriwa the main line of would-be storms was now to our east. It seemed as though we were on the clearing edge of the trough, although, outside the air was warm and dewpoints were in the mid teens - pre storm air. I think the disappointment of a few busts had taken its toll on our confidence and common sense and Paul and I were still ready to pack up and head back to Sydney. Not Jimmy who was on the trail - and those who have chased with him also know that when he sniffs out a storm situation there is no stopping him. After taking different turns we soon met up again and headed south to Gulgong and then on to Mudgee.

By the time we got to Mudgee daylight was running out. We filled up the cars with petrol and while at the service station the reports started coming in: an STA was out, storms were already showing up on radar (quite rare for storms so far out); huge storm cells visible on the satpics; all this while listening to constant static on the am radio!. But would the storms reach us? It was a waiting game and with time on our hands we arranged our accommodation for the night. After that, it was 30 km north to Gulgong we decided to go north to Gulgong which had a lookout with 360 degree views. As we were heading north the first flashes were visible - and did that kick start the adrenalin or what! We made it to the lookout to be greeted by an absolute beast of a storm now about 30km to our south west.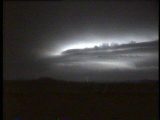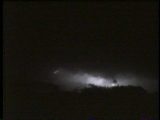 Looking south from Gulgong Hill at the northwest flank of a supercell thunderstorm
Inflow was already very strong at our position. I was only wishing there was some more intense lightning. Just as i said that the whole mesocyclone lit up like a lantern as it exploded with barrage of intense CG and CC lightning. As it churned its way east we were in perfect position with a great view of the north-west flank - some very intense lightning revealed a mothership - giant updraft, very long beavers tail, curved inflow bands, multiple striations on the lower portion of the updraft; it was the most dramatic appearance of rotation that I have ever seen on a thunderstorm.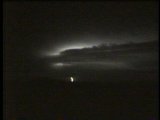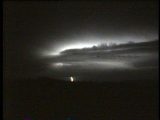 From this position we could clearly make out curved mid level inflow bands, beaver tail and mesocyclone - the whole thing was clearly rotating!
Amongst the gasps of awe a strong lowering was visible under the updraft and one half-assed bolt revealed what appeared to be a large funnel extending all the way to the ground. Another revealed the laminar banding indicative a strong rotation in the low level mesocyclone. Enough was enough and after getting our storm structure footage the chase was on - south to Mudgee.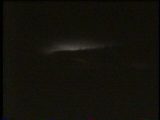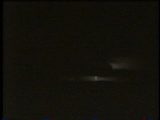 Laminar banding of the mesocyclone with inflow wrapping in cyclonically and a very hard west (right) edge to the updraft. Pic 6 shows very impressive structure on the front (eastern) edge of the meso.
I would say that we got to within 5 or so kms of the storms engine room. Lots of scud made it difficult to observe the updraft base. We set the video up on our tripods (only to have some blown over) at the same area south of mudgee where we had initially observed the anvil. Lightning was constant and one flash lit up what appeared to be a wall cloud and tiny (!) funnel - we were in the right place. The cloud tags and scud action at the back of this storm were incredible!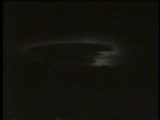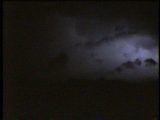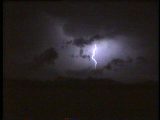 Looking east south east at the back end as the supercell edges away. Another case of was it or wasn't it - wall cloud and possible funnel in the top right? This feature was very persistent although the funnel never got any larger.
The outflow was just chilling. Some spectacular lightning, culminating with an awesome anvil crawler (my camcorder was ointing the wrong way and only caught some finger tips. Still check out a short mpeg which turned night into day, and was a great way to end the night.... or so I thought. I just couldn't stand the cold and decided on going back to the motel and calling it a night.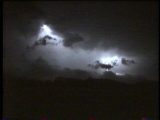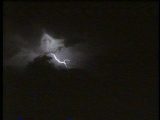 Finger tips of an anvil crawler almost overhead - check out the mpeg if you haven't already done so as it is much more spectacular.
Some active CGs from a storm to our west ended all such thoughts of eating / sleeping :-) Instead we all grabbed towels as makeshift jumpers (we weren't prepared for an overnight stay!) and headed back to the southern outskirts of town.
Storm No 2 edged closer. At first it appeared that we would be hit by a nasty gust front. Soon we realised that this inflow feeding into a circular base. Another supercell I asked? "it wouldn't surprise me.... they're breeding tonight" was the answer from Paul. A large wall cloud was visible - probably only 5 km to our south-south-west. With my camcorder batteries dead and Jimmy's flashing "very tired" I went conservatively with his camera - what a stuff up. Soon after I switched off a huge smooth conical funnel was lit up brilliantly by lightning and extended 2/3rds of the way to the ground - I managed to get some video of the wall cloud and funnel 5 minutes earlier but they were a far cry from what we saw during that flash (see pics in jimmy's report). I didn't see it again and now our eyes were on the storms closing in on us. We were hit by some stuff which had developed to the north of the main updraft although nothing severe, just some brilliant Cgs. What a chase though!!. We headed back to the motel with our minds racing after what we had just seen. The next morning we were awoken by very heavy although the storm show was over. Had we known a 4 hour drive to our south would have seen supercells on the menu again. To be honest I don't think I could take anymore excitement without a few days rest!
Big thanks to Matt Piper for all his work in getting the video online and of course to Jimmy and Paul for a great chase.
---