---
This storm was a surprise to me. There were indications that shower activity may develop during the evening as some large cumulus moved in from the SE around dusk, but I wasn't expecting any storms.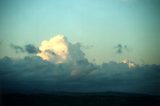 About 10.15pm EDT when I was heading to bed there was a distant background flash of lightning to the far south. This happens quite often as weak thunderstorm activity moves up the east coast out to sea, so I didn't take much notice of it.
A little while later I was amazed to see a flash out to the NW, probably near Woodenbong (WNW of Kyogle). At first I didn't believe it was lightning, but subsequent flashes soon got my attention! Some mid level crap obscured the full view of the developing thunderstorm, with just the top of the cloud glowing and the bottom of CGs visible hitting the ground. Though about 15 minutes later this started to break up and I couldn't resist setting up the camera on the verandah even though the cell was about 60 kilometres away to the NNW.
Despite only giving off a CG every minute or so, I was pleased to get these decent photographs of it. All were using an SLR with 50mm lens and apateur set to F1.8. Exposure durations are 4 minutes, 1 mins, 5 mins, 3 mins and 6 mins but all came out pretty much the same: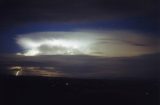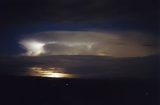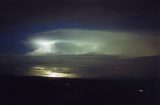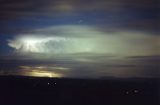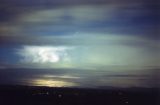 This storm continued ENE to Murwillumbah where it intensified and veered left spreading through the Gold Coast with severe weather. Follow the link to the chase report by Anthony Cornelius to find out more. His report includes a radar loop.
---