---
NOTES: All times are Australian Eastern Daylight Savings Time which is UTC + 11.
Click on images for larger view.

Cumulonimbus persisted offshore during this morning from last night's activity. It was humid and warm with light breezes tending moderate to fresh N-NE by the afternoon. A little altocumulus castellanus was evident to the east mid morning and cumulus soon began to form. Synoptically, a trough persisted in NE NSW from a stationary low pressure centred SE of Victoria.

Soon after midday, cumulus congestus was developing just to my east, and with one persistent area to my north along the Tweed Coast north of Byron Bay. This developed further into a weak cumulonimbus with an unusual pushed over look to it. The updraft seemed to persist in one fairly small area, with the rest of the cell quite high based being blown out to the east. Lightning tracker did not pick anything up from this cell, but it produced a significant and quite persistent rain area.

Some early development at McLeans Ridges: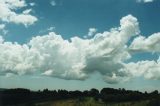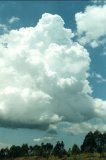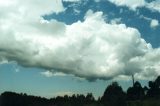 Weak cumulonimbus cell over the Tweed Coast (about 50km NNE of my location), with interesting pushed over appearance, this sequence taken over about 45 minutes: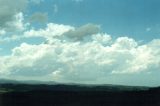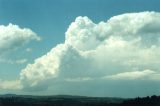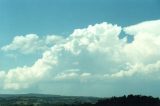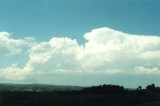 At this stage (~2.15pm) there was very little occurring to my west and I was beginning to get impatient that anything would form to my west and give me a storm. However I didn't have to wait long. Radar showed a cell had formed NW of Casino which has been out of my view, and soon tracked towards the east, and to my home. Although this cell did not grow all that large it was soon giving off heavy precipitation and rumbles of thunder. It propagated just north of my place by 3.30pm, changing to a ENE track and skirting our house with a brief shower of rain, then continued on over the Nightcap Range then out to sea over Brunswick Heads. It was giving off a fair amount of lightning for smallish cell, but fresh updrafts kept forming making for a nice view. Like the earlier cell on the Tweed Coast, this one had a pushed over appearance with tops on fresh updrafts to about 30,000 feet max.
As the cell reached the coast after 4pm it intensified with updrafts punching quite a bit higher than earlier, and some lowered base and inflow features also developed.
All this was really the precursor to what would soon follow. Thunderstorm activity had been developing on the Northern Tablelands from before 4pm but activity there was fairly insignificant looking on radar. It wasn't until about 6pm that it all started to interact and rapidly intensify after encountering the humid and quite fresh NNE inflow winds from the coast. I observed the anvil cloud from the west from about 5.30pm and it rapidly thickened and spread over us by about 6.30pm. By 6.40pm the development was amazing ! An enourmous line of cloud developed on the inflow boundary of this storm, and in the space of 10 minutes had spread from around Nimbin to the QLD border (about 40 kilometres) ! A huge shelf cloud formation was the result and it was propagating towards us. Lightning became constant, in fact it was strobing, but nearly all of it behind the leading preciptation curtain - and it got dark very quickly. I took pictures with the camera set on the tripod while running back and forth to check the radar and ICQ with other storm watchers.
For several minutes it appeared as though the storm would just spread too far to the north and we'd end up with the weaker activity on the southern edge, and no significant weather. However, by 7.05pm it was obvious this beast of a shelf cloud was curving right into McLeans Ridges. It was getting a little scary by 7.10pm - my wife and two young kids enjoy the lightning but could sense I was expecting more than just that - and we are extremely exposed to the NW for winds.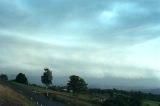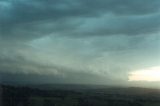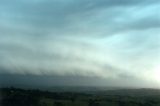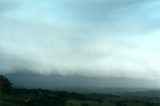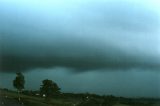 And then it hit !!!!! It was a strobing sky. A few drops of rain hit the north facing windows under the verandah with the initial gusts, then all hell broke lose. Torrents of rain smashed against our house driven horizontally by the 50 to 60 knot northwest winds. The sound of this, the thunder, the constant flashing of lightning, and it all got pretty freaky for the family. The glass sliding doors were bowing in and water soon started to be driven under the bottom of them. Water was being driven under the front door and garage which also face north. The outdoor chairs went flying as did a few toys left lying outside. We went from room to room as the storm continued checking for leaks or any other problems. The lightning was amazing and so bright - mulitple flashes occurred in bursts with many CGs striking close to our home. The torrents of water were gushing over the gutters and scouring the cut into the hill at the back of our house. Dirt was flying through the air from the exposed earth. This never let up for about 10 minutes.
Winds seemed to be a fairly constant northwesterly throughout the event, but later inspection of where dirt was stuck to the walls showed it must have been quite strong from the ESE at one stage.
An initial inspection outside after the rain stopped showed no damage to our place. Apart from the water entering the rooms, and through the top of one north facing window it was all OK. The wheelie bin was flung and an outside pottery hanging was ripped out of the wall and smashed.
In the morning I was shocked to look down the hill (towards the north) to see a large tree snapped off about two metres from the ground, and an empty plastic 5,000 gallon water tank that had blown in from somewhere ! Later investigations showed three water tanks (we are in a rural area) had broken lose from a house under construction about 500 metres to our west. Two of them had crossed a road at the rear (south side) and impaled on fence posts, however the third was blown 300 metres eastward along Cowlong Road, swung NE across my neighbours place smashing through several trees, then on to our property smashing one of our trees (fortunately a weed species) then down the hill before coming to rest metres away from the house below us. The tank (these are about 5 metres in diameter) narrowly missed three houses including ours on its journey and was probably only stopped from hitting the house below because of the violent mainly NW winds at the time.
Now back to the evening's events.
After the storm had passed we were in for a spectacular lightning show. In fact this evening produced the most lightning I've ever witnessed in one night. The storm progressed to the NE with multiple cells along the line stretching from the NW to SE. The Brisbane Storm Chasers cover later stages of this storm, and plenty more earlier in the day in SE QLD, with weather data and radar loops available. James Chambers also reports on SE QLD events.
I had two problems in setting up and photographing the lightning: there was just so much of it I thought I'd just end up with a white blur; and because there were several active cells on the line, I had to pick which one I'd chance on producing the visible CGs. What a dilemma ! Two storm seasons with hardly any chance for lightning photography, and now this awesome show. I set the camera up at 7.45pm mainly facing N and NNE and these are some of the results over the next hour.
Later in the evening, it was hard to get to sleep with the constant strobing of lightning all over the place, and of course the memories of what had just occurred. It didn't matter though - around 12.30am 27th October another storm intensified over the border ranges and tracked east right out the front. The CGs were much closer, much clearer and there were bloody heaps of them, so I set the camera up again about 12.45am and got these shots:
And a close up of the second one: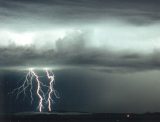 The constant lightning kept me awake until about 2.30am then I woke the next morning at 5.30am, but for some reason I didn't feel tired.
On a more serious note, there was no severe thuderstorm advice out for this event until after it passed ! We were hit at about 7.15pm and radar indicated the storm to be significant well before this, but the advice was only issued at 7.40pm:

SEVERE THUNDERSTORM ADVICE
BUREAU OF METEOROLOGY
NEW SOUTH WALES REGIONAL OFFICE
Issued at 1940 on Thursday the 26th of October 2000

This advice affects people in the following weather districts:

Northern Rivers north of Cape Byron

Thunderstorms are occurring within the advice area and are forecast to
continue for the next 2 hours. Some of these are expected to be severe
bringing large hailstones, damaging winds and very heavy rainfall.

---
Radar
These images from Bureau of Meteorology.

The Grafton loop shows the initial storm development near Casino which crossed the coast at Brunswick Heads (0250 to 0630z) and then the big one from about 0530z onwards.