During 1999, ASWA arranged a chase that would go for 3 weeks with people joining in whenever they could if they wished to chase and had the opportunity. The purpose of the chase was to gather information about the behaviour of thunderstorms in the eastern states. The chase in 2000 was similar except it was decided that chasing would occur in smaller groups. This would allow for more storms to be covered but also people could make their own decisions. This concept worked well.
Overall, it was a very successful storm chase with many supercells, some wall clouds, funnels and even tornadoes observed. In fact this is the best season I have ever observed since I began chasing in 1993. I suppose since I have been actively going out chasing storms out of the Sydney egion.
The following chase report will be less detailed than other reports reporting more on what happened and a few things that we did. The more significant storm chase days will be covered in greater detail, particulary the last three official days of the storm chase. The report will be divided into the three episodes representing the significant outbreaks that occurred. I hope you feel part of the chase as I describe what we experienced: from the excitement to absolute frustration. I will also detail the region and track we followed to give you an indication of the distances we needed to travel. Times will not always be mentioned as they will appear on the photographs with a mouse over them. These photographs will appear at the appropriate part of the chase report. Of course not all photographs will be included in this report. All the photographs of the chase are included at: http://australiasevereweather.com/photography/photos/2000/index24.html and each document theron. Some of Michael Bath's photographs are also included in here. He did not take part on the chase officially but did have some of his own local chases around Lismore.
Nick Moir from Sydney with his vehicle teaming with Mark Dwyer from Perth, Western Australia.

Later, on the last three official days of the chase, Mario Orazem from Sydney joined me in my vehicle. Mark Dwyer and Nick Moir did not take part in the last week of the official chase.
Episode 1
Saturday 18th November 2000
We left Sydney from my place in Schofields (after the usual introductions) and headed towards Mudgee and then towards Dubbo.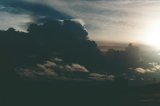 There was steady rain the whole way and even past the dubbo area. (This was to cause major distastrous floods in the region a few days later). Then after the Narromine area towards Nyngan, the rain cleared and storms were observed. They were already active with frequent lightning activity, mostly incloud lightning. We passed through heavy rain at Nyngan and then headed north to northwest towards Bourke. The storms and rain cleared in the region around Byrock.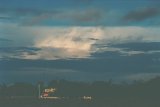 We observed some excellent contrast in thunderstorms developing to the southwest and also another storm to the northeast. We were thinking of staying the night but we decided to head to Bourke. There was a moderate lightning show as we observed from a distance. My observations had a trough persisting in the area for the next day.
Sunday 19th November 2000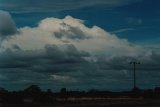 We awoke to very warm conditions and castellanus with lower level cumulus and stratocumulus patches. A storm developed to the south and southeast and seemed to explode but we waited to see if it maintained itself. It was one of those real waiting games on this day so playing a game a cricket with a Nick Moir custom designed branch as a bat. It worked well and we really slogged the cricket ball losing it a couple of times. However, it was the storms that we were there to see so we went into town to have lunch.
The storms were developing along the trough aligned northwest-southeast. But my inclination told me there was a good possibility that another pre trough line or convergence zone could develop ahead of this line. So after lunch, we based ourselves south of town. Storms were developing but did seemed to be remaining along the trough and drifting southeast. I didn't want to play catch up so we observed the activity closely.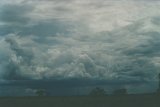 We went north briefly but the cell only dropped heavy rain. When we stopped, we could see the storms to the south were becoming stronger so we made our way on the road towards Cobar. A storm had developed an intense precipitation cascade. Hail was a probability. We initially set out to chase this storm but Geoff and I watched a dark base developing to the west. So we turned around and made our way back to the clearer areas to observe this event. The updaught of this cell was quite strong.
As this storm dropped the first and then a second major downdraught and associated intense precipitation, we noticed a small funnel develop. The rotation was clear and anticyclonic (counter-clockwise in the southern henisphere).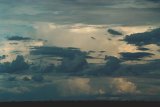 This funnel lasted about two minutes and then disappeared. The storm gradually dissipated as it became outflow dominated. The whole line was developing.From a spot closer to Bourke, we could see a major thunderstorm to the southeast - probably the one we had observed develop earlier in the day but more southeast. It seemed to have a reasonable flanking line structure. It was a likely supercell.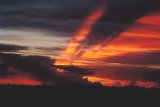 We had attempted to meet up with the other team, but they had moved ahead of this supercell near Cunnumulla and headed towards Charleville. We had also lost Nick and Mark, finding out later they had got bogged on the way out to the storm on the road to Cobar.
Monday 20th November 2000
It was becoming apparent that the widespread rains had taken its toll and flooding was expected in Charleville. So the plan was that Nick would leave early and meet us at Cunnumulla and we would head for Charleville. From the models and even observations, the target area was better to the east towards Roma, a trip of about 500km from Cunnumulla!
The other team had headed east from Charleville before we got there. We observed the Warrego River rise briefly and then made our way east. The last thing you want is to watch supercells develop from the other side of flood waters.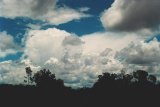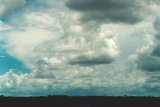 From around Morven, we could see amongst all the storms, major cells develop to the east around the target area. Storms were also developing and approaching Charleville to our west. It wasn't until we approached Roma that we seemed to be really making up ground with the supercells. The cells were predicted to reach heights of about 14km on this day. The cells were certainly quite large. The conditions were consistent with a high CAPE (Convective Available Potential Energy) environment but not the best in terms of windshear.
The storms were aligned along a trough line to the east of Roma. As we made our way to Miles, we also observed a line of storms developing towards St George. What seemed to be amazing is that as we approached the supercells, we observed impressive structure and some suspicious lowerings. We watched as the flanking line exploded into a major cell. Then the cell in front collapsed. To my astonishment, there was another cell there as well. It was this cell from which the other chase team had observed a funnel go half way down to ground amongst annoying trees.
Again as we made our way east towards Chinchilla, this storm also weakened! We met the team just outside town. We were observing the (St George) storm system develop and approach. It was moving reasonably rapidly northnortheast. The overhang and structure seemed to indicate another supercell.
The two teams seemed to differ in opinion as to where to head so we headed out towards the west of Chinchilla whilst the other team southwest.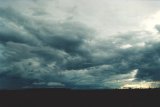 I was impressed with the structure so we stopped in the first available spot crawling through barbed wire fencing to watch this amazing spectacle. This storm displayed amazing contrast, and further, it seemed that the region where the shelf cloud was meeting the main updraught tower seemed to be rotating and there was a lowered section. The rotation seemed consistent with a clockwise direction but it was difficult to tell. The lowered section seemed to be consistent to occurring below the main updraught region of a HP supercell just under the gust front.
I noted that the storm was developing a new updraught area to the west along the flanking line and also the side sheared anvil. We tried in vain to get close. But we had to retreat in case of hail. This storm moved further north-northeast and then dissipated. We stayed the night at Chinchilla. We observed lightning activity from another storm to the northwest during the night.
Tuesday 21st November 2000
We awoke to a stratus cover. It was encouraging to note that the winds were from the east-northeast. We decided from the models that the likely area of activity would be northwest of Chinchilla. This was another day of high CAPE but the capping was stronger in that area and would hopefully supress convection until later. A southeast wind change was going to be a critical factor in what developed that day. We were expecting storms to develop before this came through though.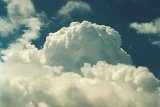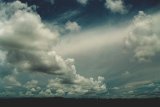 By about mid-morning, local cells were developing rapidly but this indicated that the capping was weak in the area. We headed towards Miles and then the turn-off to Taroom. Thunderstorms were already developing and there was a strong anvil to the northwest. As we approached Taroom, we watched some suspicious activity in this area. More activity developed to the north as well. This activity provided some incredible structure of pileus, and also scud action at base level.
The activity to the north and the one to the west seemed to be slowly merging as we passed through Taroom. A line developed connecting the two areas of activity. This activity was very turbulent in nature.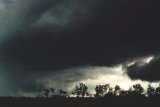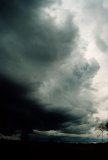 The thing I found exciting was that this was the second time I had observed a storm from the north connect with the storm south of it (this was in Windsor late December 1996).
We decided to head further north but the road turned towards the northern storm and we passed through some very heavy rainfall. Once out, it seemed this storm had stolen most of the available moisture. A funnel was observed further north by some of the guys though I looked at the wrong cloud and missed it.
More storms were developing as we made our way north towards Theodore.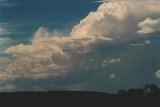 We observed one cell develop an impressive flanking line and possible wall cloud structure. The cell to its north seemed weak in comparison. However, this weaker storm developed a more organised updraught and we decided to head on its northern side. The more we approached, it seemed a suspicious structure was developing. Just outside the town of Banana - yes Banana, we observed as this developed into a wall cloud. At first, I must admit I could not see the rotation as I was expecting the usual clockwise rotation, especially since the rear flank down draught was directed northwest (indicating what I had expected was cyclonic rotation). Oh well, it seems that the rotation must have been originating from within the storm. To the north of Banana, this wall cloud became impressive with a small but distinct inflow band. There were two areas of rotation. However, the main larger area of rotation closer to the precipitation core eventually dominated.
The storm then dumped another rear flank downdraught and this I believe cut off the supply and the storm's wall cloud weakened. Rain fell through what was the rain free base region of the wall cloud.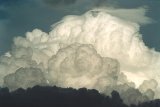 A third storm also displayed impressive structure similar to a wall cloud structure but as it began to approach, it dissipated as well. We were being chased by the developing southeast winds. We made our way to Rockhampton. This was the first time I had travelled further north of the Tropic of Capricorn. We observed a couple of storms and associated lightning but this cleared.
Wednesday 22nd November 2000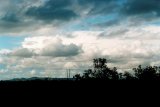 We awoke to stratocumulus cover which on the satellite picture extended well inland. Models seemed to indicate the region around Emerald and west along a trough was the target area that day. We were faced with decisions as there were road blockages due to flooding. This then became a very important part in the planning of storm chases over the next few days.
It was not until we had travelled west near Emerald that the stratocumulus had started to break showing the developing cumulonimbus.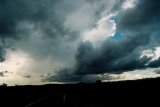 The storms were situated well to the west of Emerald over the Great Dividing Range which is well inland from the coast.
Geoff and I waited for the group to arrive and watched storms develop. The other group had already moved right ahead towards Alpha. There were already signs of severity. I wanted to chase the storm to the northwest but decided that the one to the west-southwest we were better placed for and was indicating severity. However, when we did move towards it, besides a few interesting base features, I could see the massive back shearing of the northerly storm. I cursed myself as to not having gone after it. I suppose it was a probable supercell structure wise. I later learned that the road north of Emerald was blocked due to flooding which made me breathe a sigh of relief.
Thursday 23rd - Sunday 26th November 2000
These next few days were really some of the low points you are bound to get in a chase. There were storms but it was a matter of distance and accessibility. Was it really worth travelling further and further north to get the severe storms with expected instability in New South Wales in a few days time. We eventually headed further south on the Saturday. In summary: 23rd November 2000: Emerald to Miles and on to Toowoomba. An extremely weak cell observed during sunset southwest of Toowoomba, not even worth mentioning
24th November 2000: Toowoomba to Morven to Augathella to Tambo. Storms were possibly supercellular) observed to the west of Charleville. Otherwise, we did enjoy mixing it with the locals. Geoff and I beat them in a friendly game of pool!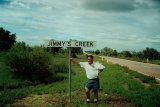 25th November 2000: Tambo to Blackall to Barcaldine then on the way almost to Longreach then back down to Charleville. Storms too distant but some may have been supercells to the far northwest along the trough. Satellite imagery over northern Queensland that day were impressive.
26th November 2000: Charleville to Cunnumulla, and the floods stopped us. Weaker storms observed towards Bourke - unable to get to them. We had been told that the road was clear but the floods had risen since.
---
The Thunder Down Under Chase 2000 - Special Report: Episode 2
The Thunder Down Under Chase 2000 - Special Report: Episode 3
---