Chase report by Dave Ellem
---
This day will long be remembered as one of the most exciting and intense storm systems I have ever witnessed. To have a monster High Precipitation (HP) Supercell advancing from the south and a Low Precipitation (LP) or Classic Supercell just to the north and moving ESE, must be a rare event for anyone to witness. But then to experience the HP in full fury was both exhillerating and scary. I had been checking the AVN forecasts for some days looking forward to some action in NE NSW, and the morning's model run (12z & 18z) had a good chance of supercells, with 180 degree turning of the winds from the surface (NE) to about 600hPa (SW), with a strong SW jet above. CAPE and LI were both extreme as you can see in the charts below, and as it turned out we had a strong cap on convection. Storms would most likely move NE today with stronger cells and supercells moving towards the north. Dave Ellem and I were hanging out for a storm chase and agonisingly watching the BoM weatherwatch radar for signs of any development in the Northern Rivers district. The first radar echos did not appear until 1.20pm local time SW of Grafton, which is late for this elevated terrain and confirmed the strong cap. The NSW BoM issued a Severe Thunderstorm Advice moments after the first precipitation was evident, so must have been waiting as well:


SEVERE THUNDERSTORM ADVICE
BUREAU OF METEOROLOGY
NEW SOUTH WALES REGIONAL OFFICE
Issued at 1336 on Wednesday the 17th of January 2001

This advice affects people in the following weather districts:

Northern Tablelands
Northern Rivers
Mid-North Coast

Thunderstorms are forecast within the advice area this afternoon. Some of
these are expected to be severe bringing large hailstones, damaging winds
and very heavy rainfall.


We didn't head out right away as planned as activity remained in inaccessible country SW of Grafton, and too far to drive, and I was certain that strong storms would develop and head up to our area near Lismore anyway. From about 3.30pm some more organised convection was gathering strength and heading off the mountains, so we soon took off on chase. I picked up Dave from Wollongbar (5 minutes drive away) then we drove to the lookout at Tregeagle (SE of Lismore) to survey the situation. It was obvious a decent storm was way down to the south, about 100 kilometres away near Grafton, but the hazy conditions made it hard to pick out features. A good sign was the cumulus congestus that shot up in front of this about 50 km away, and another cell developing to our WNW probably W of Kyogle on the Richmond Range or thereabouts. Every new updraft on this cell was capped with pileus indicating very strong uprafts, but at the time I was annoyed suspecting this would just continue up to the Border Ranges and into Queensland.

While we were at Tregeagle a field of altocumulus formed overhead and quickly developed into altocumulus castellanus (accas).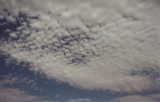 While also at Tregeagle, Matthew Pearce phoned in to suggest a very strong cell was west of Grafton heading northeast. Great news! And it was showing as "red" on the radar. Should we head south to intercept this NE moving storm, or west to remain west of the NW flank? After driving a few kilometres it was obvious the cell was spreading towards the north so we headed W to Parrots Nest, a lookout southwest of Lismore. Here we watched as this storm evolved into the monster HP supercell. Some base features were evident from our elevated position but it was still about 30 kilometres or more south of Casino (40km from us) so hard to pick out, although I did observe one funnel shaped protrusion for a few moments.
Meanwhile the cell to our NW was continuing to develop and seemed to be a lot closer than it should have been if it was heading NE ??? This did not really sink in till a bit later, but we took some photos of its development.
It was now decision time again - should we stay put or head west. It was an obvious choice in the end as the precipitation from the HP was heading our way, and I wanted to stay west or north of the storm's NW flank. The HP had by now grown into one of the largest storm structures I've ever witnessed, it must have had precipitation over 50 kilometres west to east and was pushing up to 18km in height. The anvil was thick and spread out overhead in an ominous arc towards the northeast. We raced west along the Bruxner Highway towards Casino, planning to keep going but were "encouraged" to stop sooner (about 12ks E of Casino at Fig Tree Lane) by what was developing to our northwest. The storm there had definitely moved towards us in a ESE direction and was now exhibiting a wall cloud structure on its southwest flank! I couldn't believe this thing was moving in a direction so different to the HP (about 120 degrees different), but it was quickly confirmed when Jonty Hall called in from the Brisbane BoM asking for observations. He said the cell we watched develop west of Kyogle had split into two, the left mover (as viewed from behind) tracking N into the Border Ranges and the right mover (traditionally the weaker) heading ESE. I confirmed that we were "between supercells", the HP to the south and the LP or Classic (yet to be decided) to the north. This observation assisted in the QLD BoM issueing a Severe Thunderstorm Warning. Meanwhile the beast was approaching from the south and it's eerie base structure came into view out of the haze. As the terrain we were on is only about 20 metres above sea level it took a while before the features were visible, although little if any trees are in this location.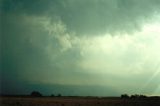 HP Supercell moves in from the south.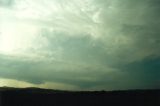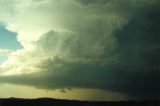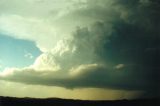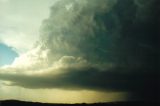 On my God ! What have we here - a Classic or LP Supercell !!!!!!
This cell to our north was such an incredible structure and something I have not witnessed before. You can see the corkscrew updraft and easily imagine the rotation. The wall cloud persisted the whole time we observed this storm, with some precipitation well off to the NE, but little lightning was seen. My big mistake this day was stay too long in this location watching this awesome structure, because the real beast was quickly approaching. Lightning was frequent and becoming quite close as the HP came up from the south. The precipitation appeared very intense and a green tinge was apparent above the developing gust front. We took off westwards with me now realising we were unlikely to be able to get out of the storm as it was rapidly approaching Casino. A one minute stop to take these pics at 6pm, then we were off again, the third picture here showing the collapse of the other supercell which was to our north.
The scene to our south was truly amazing and something I've never seen on this scale before. We had the video camera going and some captures will be added here shortly, but for now you'll have to imagine it from my description. Along a five to ten kilometre east west line was the most spectacular gust front formation - the clouds were boiling and swirling with areas reaching almost to the ground. Intense CGs punched through this. And it was so dark at the base it was very obvious this was full of hail and going to cause huge damage in the town. Out towards the northeast was a huge "beaver tail" type inflow band and where it reached the gust front was a prong lowering pointing downwards to the NE. Further west along the front was the incredibly contrasted boiling guster, appearing white on the leading edge and black behind it. These 3 photos were taken just as we reached town while speeding through!
Soon after we passed the Bruxner Highway / Summerland Way intersection it hit. Immediately trees bent over, dust and debris went flying across the roads and we were splatted with the first rain. I drove as quickly as possible (in a 60km/h zone) with the road heading W, NW and N on the northwest outskirts of Casino. It was now 6.10pm. Larger branches began flying off gum trees in front of us with one hitting the back of the car (causing a large dent). Intense bursts of rain with winds to about 120km/h hit from the S and SSW. We kept travelling N up the Summerland Way but the storm was too quick and we could not escape the fury. Having to slow down because of the poor driving conditions did not help. About 4 km up the road the first hail hit, probably 1-2cm diameter maximum at this stage but soon it became much larger. We stopped in a side road clear from trees as the storm entered an intense phase over us. Winds were whipping through from the S-SSW at around 120-130 km/h, intense bursts of rain gave white out conditions and then the larger hail hit. 4 to 5 cm stones pummelled the car, and being wind driven it was a real worry a window would break if larger stones fell.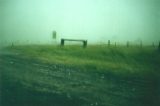 We endured the onslught for what seemed like ages before deciding to head back south towards Casino, hoping to get out of the violent weather sooner. There had been a brief lull, but as the winds tended SE then right around to the NE, more violent wind gusts with blinding rain and hail hit from the rear downdraft. We stopped again a few times on the side of the Highway waiting it out. About 6.25pm it finally eased and we headed into town to see what had happened. Large trees were down, branches and leaves strewn across the roads, roofs were off or damaged, windows smashed, cars dented, the power was off, and everywhere large hailstones were lying on the grass. We stopped to collect and measure a few and the largest stones: 6cm diameter. The official BoM observer measured one at 9cm diameter ! It seems we were outside the main damage path. My car has plenty of dents but only from the 4-5cm stones thankfully.
Some more tree damage photographed 2 days after the storm.
Shortly after arriving home at McLeans Ridges, northeast of Lismore a lovely line of congestus sprung up on the hills to my north. It became quite lightning active.
In the meantime another very large storm complex was advancing up the coast from the south. Radar revealed some intense cells imbedded in an east west line stretching several hundred kilometres on the North Coast and Northern Tablelands, with the most intense echos along the coast. Lightning was occurring multiple times per second as the system advanced to my location hitting shortly after 9pm. It then continued into SE Queensland.
---
Report on the event by Emergency Management Australia

Some notable AWS observations From Australian Weather News and Bureau of Meteorology
RAINFALL

100.8mm/h CASINO AIRPORT AWS North Coast NSW: 8.4mm in 5 min to 18:20
284.0mm/h CASINO AIRPORT AWS North Coast NSW: 14.2mm in 3 min to 18:23
216.0mm/h CASINO AIRPORT AWS North Coast NSW: 7.2mm in 2 min to 18:25
108.0mm/h CASINO AIRPORT AWS North Coast NSW: 1.8mm in 1 min to 18:26
11.7mm/h CASINO AIRPORT AWS North Coast NSW: 35.0mm in 180 min to 21:00
28.3mm/h CASINO AIRPORT AWS North Coast NSW: 18.4mm in 39 min to 22:00

WIND GUSTS: max gust, (direction, mean speed) in km/h

GLEN INNES AIRPORT AWS N Tablelands W NSW: 93 (200/ 76 ) at 19:53
CASINO AIRPORT AWS North Coast NSW: 109 (150/ 82 ) at 18:15
EVANS HEAD RAAF BOMBING RANGE North Coast NSW: 135 (170/100 ) at 20:22


RAINFALL: 24 hours to 9am Thursday

NORTHERN RIVERS:
Alstonville 30 Ballina 24 Ballina Ap 25 Cape Byron 19
Casino Ap AWS 59 Evans Head AWS 2 Grafton 33 Lismore 43
Mullumbimby 48 Murwillumbah 64 Nimbin 91 Whiporie 45
Woodburn 33 Yamba 35

MID-NORTH COAST:
Bellingen 9 Coffs Harbour 12 Comboyne 28 Dorrigo 30
Forster 0.8 Gloucester 14 Kempsey 15 Laurieton 13 Lorne 28
Macksville 8 Mt Seaview 19 Nambucca Heads 14 Port Macquarie 24
Pt Macquarie AWS 24 Smoky Cape 20 Taree 4 Taree AP AWS 0.4
Thora 26 Wauchope 27

NORTHERN TABLELANDS:
Armidale 12 DeepWater 8 Emmaville 17 Glen Innes 14
Glen Innes AG 11 Glen Innes AP AWS 6 Gowan Brae 5 Guyra 4
Inverell 5 Inverell SCS 3 Lower Creek 19 Mallanganee 16
Point Lookout 26 Tabulam 13 Tabulam Muirne 14 Tenterfield 1
Tingha 3 Uralla 5

---
Media Reports
---
Radar From Bureau of Meteorology.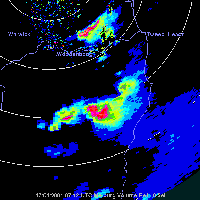 6.10pm local time (click for larger view).
The Grafton radar was unfortunately knocked out at 4.50pm local time. The Grafton loops show all development leading up to a supercell signature just west of Grafton by 4.30pm local (0530z) and the start of the splitting storm NW of Casino at 4.50pm local (0550z). The Brisbane local loop shows the splitting supercell from W of Kyogle and the Casino supercell just after it passed through the town. Check the broad scale Brisbane loops for the big picture and all the others storms occurring.