---
I had really hoped for some action on the previous day, however it was not looking good. Whilst the chance of storms was pretty high, the atmosphere was dominated by generally SSE winds. This meant that storms that formed would move in a NNW direction - not good for the Northern Rivers, considering storms were likely to form on the Northern Tablelands. I did however get to watch a cell develop near Tenterfield which was nice. Anthony Cornelius was out in the area and experienced winds over 100km/hr and pea sized hail near Warwick with some damage occurring.

Now to the Wednesday. The day brought with it greater instability so I headed to the Northern Tablelands with my friend Steph. After eating lunch at Tenterfield Cjs rapidly developed nearby and by 2pm we were receiving fat rain drops from a weakish looking updraft on our way to the Mt. Mackenzie lookout. When nearly at the top at 2.10pm the rain began to get very heavy, and I hadn't realised but it was actually hailing! I quickly pulled over and it seemed as though the slow moving congestus had been dumping fail well before I had gotten there. I managed to play in the hail for almost ten minutes, with the biggest stones being around 1cm.

After that there seemed to be a lull in activity, so we headed NW of Tenterfield along the Bruxner Highway. I just had to stop constantly along the way to photograph the back end of a beautiful storm near Stanthorpe that we had watched develop from Tenterfield.

We traveled a little further up the highway and turned down a dirt road with a clear view to the S - the sky was really black with distant CGs. It looked so black I decided to just sit there and wait (a thick anvil came overhead so this was a positive sign) - and the Stanthorpe cell was giving plenty of CGs and deep thunder to keep us entertained.

From here I got confused (lack of radar updates became a problem, especially since I had never been out this way before) - we waited over 1.5 hours for this line of storms to come from the south. Lightning became pretty intense as the storm got closer around 4.30pm, but then it seemed to pass over with only some light rain and gusty winds. The lack of any visual features meant it was impossible to tell exactly where the storms were. The sky was just grey with lightning all around us! Then it seemed there was another line that looked much stronger (started to form a guster) and had very strong winds ahead of it. I had tried to jump a fence to get photos of the developing guster, but the winds were so strong it kept blowing me backwards when climbing the fence. It ended up dying very quickly before reaching us.

At this point I met up with AC and he decided to head back into S QLD. I couldn't so headed home, enjoying the spectacular, but not so frequent lightning. The day wasn't overly photogenic (hazy and too much yucky cloud about) but I would definitely call the day successful simply because I FINALLY got to play in some hail!!
---
Radar
From Bureau of Meteorology.
Grafton local scale loop 0300z to 0640z 22/01/2003 (2pm to 5.40pm local)
---
Satellite Images
From TWC Weatherzone at 2pm, 4pm and 5pm local.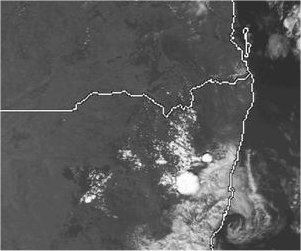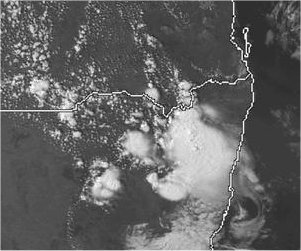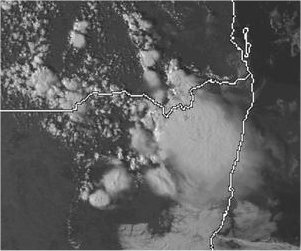 ---
Analysis Chart
From Bureau of Meteorology.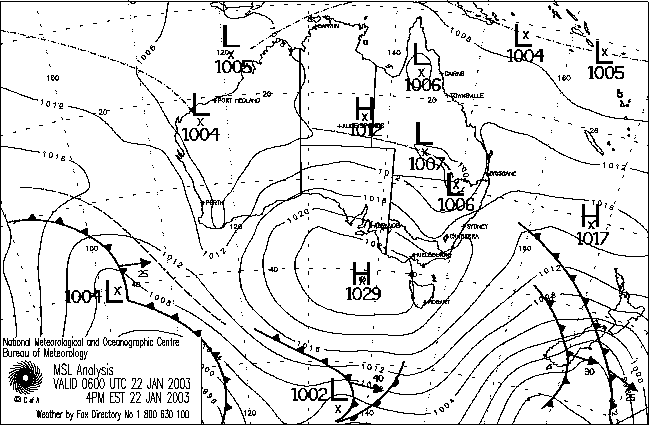 ---
AVN Model Analysis
From NOAA 22/01/2003 06z analysis run
Winds (knots) 500 hPa
---