---
A somewhat marginal day with LIs of somewhere between -2 and -3 and CAPE around 1200 ended up producing a beautiful but unexpected supercell. An upper level trough in the area helped provide the trigger for the day's action. There was 180 degree turning of the winds from east to west, with 90 degree turning between the surface and 800hPa. With low level shear quite acceptable, in hindsight it is no real surprise that a supercell formed! Early activity was rather weak, but some cells that developed W of Casino gave some thunder and heavy rain. Just over the border another developing cell produced 1-1.5cm hail that Anthony Cornelius received at his home.

Activity continued to increase and by 5.20pm a cell NW of Grafton was beginning the transformation into a supercell. At this point we should have headed out chasing, but left it too late. By the time we realised we needed to get out there quick at around 5.50pm the cell was well on its way. We raced towards Casino dealing with terrible traffic. A stop at Parrots nest revealed some beautiful structure with great contrast.

We progressed from there to Fig Tree Lane, just east of Casino. A definite green tinge was evident and a beautiful gustfront/inflow feature extended well ahead of the storm to the NW. Fantastic structure! A possible inflow band also began developing on the storms eastern side. Some great CGs were also pulsating from this storm.

We then mad a dash for the Summerland Way to intercept the now almost N moving cell. At around the time we left Fig Tree Lane at 6.30pm the cell had a massive red core in it that maintained for a couple of frames. Radar also later revealed what appears to be a distinct V-notch. Hopefully high res 3D radar may shed some light.

Around 6.40pm the cell began to weaken visually. We stopped for photos briefly before pressing on towards Kyogle, still hoping to catch some rain/hail.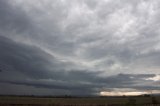 We decided to pull off on a side road along the way and watch the cell as it was all too late to intercept it. From here it rapidly decayed, although did produce what appeared to be a strong microbursts and very heavy precipitation.
We decided to move a little closer to Kyogle and catch some heavy rain. We snapped a few pics of its last stages. A deck of StratoCu developed ahead of the storm which looked quite interesting. From here we drove towards the rainshaft still hoping for something special, but that was about it, a bit of heavy rain and one or two last flashes of lightning and the storm was dead.
Quite a frustrating chase that could have been much more exciting had we been a little more committed! Fortunately Scott Hills from Goonellabah realised what was going on well before Michael and I did and headed straight for the cell along the road to Tenterfield. He successfully positioned himself in front of the supercell and watched it in all its glory! Hopefully some of his photos will be up soon.
Click here to see video stills from the chase
---
Radar
From Bureau of Meteorology.
Grafton local scale loop 0440z to 0830z 13/02/2003 (3.40pm to 7.30pm local)
---
Satellite Images
From TWC Weatherzone at 5pm local.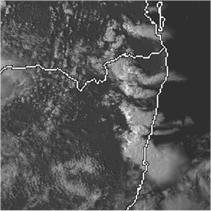 ---
Analysis Chart
From Bureau of Meteorology.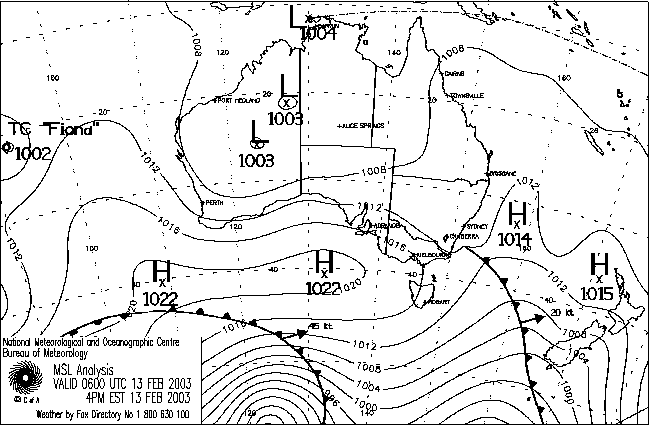 ---
AVN Model Analysis
From NOAA 13/02/2003 06z analysis run
Winds (knots) 300 hPa
---