---
We had hoped to do some chases up to the Northern Tablelands a few times this season, but the timing and setups generally were not supportive of the longer drive.
An inland trough had been working its way through NSW and was expected to produce thunderstorms throughout the northeast of NSW on Sunday 16th March. A high was ridging up the coast and likely to give more stable southerly winds in that area by afternoon or overnight. The shear was not the best, and storms were not likely to be too large, but we were anticipating hail. Storms would likely move towards the north or NE - another reason for risking a Northern Tablelands chase, as the Northern Rivers can miss out if storms only form on the ranges.
Dave Ellem and I left about 11am - it takes 2 hours to get to Tenterfield in the Northern Tablelands district. Rodney Wallbridge was already in the area so we planned to meet up with him once there. The terrain varies from between 900 and 1300 metres above sea level.
By noon some cumulus congestus with some patches of altocumulus was forming along the ranges. It was lovely to see the very early development which we often miss in the Northern Rivers. Just NE of Tenterfield we had a call from Rodney and arranged to meet up. We then proceeded NW of town along the New England Highway to a fairly clear area with great views in all directions. Initial storm development was encouraging at first, but then seemed to be lacking any sort of strong updrafts.
An area of storm activity appeared to be dominating south of Tenterfield so we headed there to try and intercept some hail. We managed to drive through quite a bit of heavy rain from a weakish cell, then just as we were about to head back north into Tenterfield, a brief shower of small hail fell. Success ! - but hardly all that exciting. The strongest looking storms seemed to be east of the New England Highway and seemed likely to cross the Bruxner Highway east of Tenterfield.
We heard that other storms were forming in the southern parts of the Northern Rivers, so the choice was an easy one to head back east down the Bruxner Highway to catch later storms, while also trying to intercept the one to our east. About 10km NE of Tenterfield we caught up with the cell. For the next 30 minutes we copped extremely heavy rain, some strong winds and bursts of small hail up to about 1cm diameter. It was amazing fun trying to drive with near white out conditions on a winding narrow heavily wooded road. The route seemed to track in the same general direction as the storm, so we managed to keep in the core for quite a while.
By about Drake the rain had ceased, but some new updrafts and rain free bases to the south came into view. We kept driving east and set up by 4.30pm on the Mallanganee lookout on the Richmond Range. Some lovely high contrast storms had formed with some very heavy rain shafts, possibly hail - but they were rather high based and were not producing a lot of lightning.
We decided to head further east, and made it to Casino by 5.20pm. A spectacular feature had formed in a NNW axis from a thunderstorm well to the south near Grafton. It was like a flanking line into a storm, with strong cumuliform development, lowerings and lightning. At first it seemed like we had a very strong storm to our south that was likely to head NE into good chase country. But as we moved closer, it weakened and did not seem to be advancing towards us at all.
It was getting late and all activity seemed to be weakening. We drove out to the Broadwater National Park hoping to see some other development south of Evans Head, but it also died off.
Despite the nine hour chase duration, and 600 kilometres covered, it was a very enjoyable chase - with no boring parts. Having two vehicles in constant contact via UHF CB always helps, and the variety of storms observed, despite being relatively weak, maintained the interest.
If you (or someone you know) have any photographs or video of this event, please feel free to contact Michael Bath. Your contributions are very welcome.
---
Radar
From Bureau of Meteorology.
Grafton local scale loop 0030z to 0900z 16/03/2003 (11.30am to 7pm local)
---
Satellite Images
From TWC Weatherzone at 5pm local.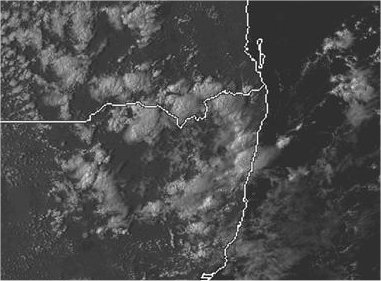 ---
Analysis Chart
From Bureau of Meteorology.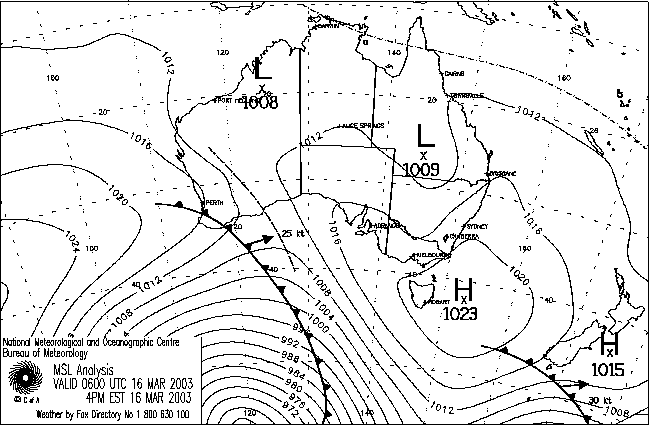 ---