---
Dave Ellem and I had an Australian Severe Weather Association meeting to attend to in Brisbane. We knew storms were likely that afternoon but on the morning in question it was unclear at first whether SE Queensland or NE NSW would be the preferred location for after meeting chasing.
LI was -4 to -6 and CAPE getting close to 2,000, but the Brisbane area itself was not as favourable. There was slightly colder air at 500 hPa over NE NSW and in the Tasman Sea than in Queensland. Temps were very cold at 300 hPa - around minus 40 and again favouring northern NSW. Shear was reasonable, with good turning with height from NNE to WNW. Steering levels suggested storms would travel towards the ESE, with stronger cells going E or ENE. Storms would likely be high topped due to the cold upper levels. Moisture levels were good, though not entirely clear - lower relative humidity levels were around the 70 % mark, with localised dry air at 500 hPa, and some further moisture around 300 hPa. Ultimately, the moisture, temperature and wind profile supported high topped cells that may rotate and veer left, but large higher precipitation cells were unlikely. There was a good possibility of hail.
As the ASWA meeting drew to an end, concentration turned to the radar and where storms had already formed. Massive storms existed well out to sea east of the Northern Rivers and Mid North Coast. Other storms had begun to form along the coastal parts of the lower Northern Rivers district. These signs were the reason I chose to head back south rather than wait for storm development west of Brisbane.
A very large thunderstorm has formed east of the NSW / Queensland border. Dave and I watched this evolve as we drove from Brisbane's Western Suburbs towards the Gold Coast. We finally got to a Surfers Paradise beach at 3.45pm to watch the storm - after enduring traffic lights and traffic for the first time in ages on chase ! It was a beautiful structure but well off the coast now. The updrafts were strong and exhibited a spiralling effect. At this time there wasn't much else around so we thought this may be it for the afternoon.
The drive south through the entire Gold Coast was tedious, but we soon made it back into NSW and out of the traffic. The drive south along the Pacific Highway was exciting as we could now see brilliantly illuminated high tops cells to our south and southwest. The backshearing on one cell was particularly impressive. We spoke to Rodney Wallbridge who was at home checking radar and were surprised to find out how far we were seeing - about 150 kilometres to a cell near Grafton. This was a bit off putting at first, but other cells were also forming closer to us.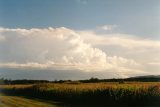 We arrived into Ballina about 5.35pm with a strong looking cell to our SW which was heading for Evans Head and reachable. Another cell had gone up over the Nightcap Range to our NW. Despite the Nightcap cell looking much better - and in fact looking like an LP cell with beautiful rain free base on its SW flank, we had to ignore it as it was not chaseable. I knew my wife would be taking photos of it from home, so it was ok.
The following 5 photos were taken by Alison Bath from McLeans Ridges facing generally north. The last photo above, and the last photo in the sequence below, both show a corkscrew type rotating updraft on the right moving LP storm's SW flank:
We continued south through Wardell and Broadwater. The cell we were chasing was weakening, while the one to the north now had a corkscrew updraft ! It didn't matter for too long - we reached and intercepted the cell we had been chasing in Evans Head. It gave us some torrential rain, but nothing more. However, it was clear a strong cell was forming to the WSW - perhaps south of Casino - 40km W of us. The sun was getting low and the sky had incredible colours and shadows now.
We raced to Woodburn and set up just west of town. The storm to the north had weakened, the storm to the east of Evans Head had weakened, while a beautiful structure was gathering strength to our west. Southwest and south of the storm was a sunset coloured shelf cloud feature from some weaker activity further south. The storm to our west was taking on LP supercell features, very obvious inflow band structures from the NE into a rain free base with wall cloud, strong updrafts and very high think anvil. We observed several funnel shaped objects under the wall cloud, but were too far away to be sure. By 6.45pm we had arrived at Coraki and met up with Rodney. The storm was to our WNW and close to Casino. The overall structure had maintained itself but we were still too far away from the rain free base to observe any significant lowerings.
The chase continued WNW along the Coraki to Casino road. The light was rapidly fading but the sky was still aglow from the sunset. We could now see lightning in the cell to our NW but realised we would not be able to get under it by the time we reached Casino. At Casino the storm was just moving off to the NE. The height of the cell was incredible, and after passing through a little rain another storm just to the west came into view. It was like driving through a canyon with 15 kilometre high walls, lightning was regularly glowing the structures with the occasional flashes along the outside of either storm. It was hard to concentrate on the driving ! We continued north up the Kyogle Road for about 15 kilometres, then stopped to view and photograph the cells.
It was now almost completely dark, the cell to our east was producing constant in-cloud lightning and the occasional cloud to air. The storm building to the SW had a large rain free area that we could just see approaching. It looked certain this storm would unload its precipitation on us within minutes. It soon struck with immediate hail to about 2cm diameter. Most of the precipitation that fell from this storm was hail. We drove north up the Kyogle Road to stay generally in the cell which was heading NE. We were having fun hearing the hail hit the car and bounce all over the road in front of the headlights. Stones were now 2 to 3 cm with the odd one likely to have been about 3.5 cm diameter. We drove out of the cell briefly, then turned around to get a little more hail before the cell moved off to the NE.
We returned to the previous location we were at prior to the hail, and enjoyed the incredible lightning display for the next 1.5 hours. Lovely isolated high topped cells and some corkscrew LP supercell type structure illuminated by the lightning ! Another storm off the coast from Ballina caught our attention with more powerful and visible lightning, but it decayed by the time we had headed east.
The following two photographs were taken by Leon Skybinsky looking east from Tabulam.
If you (or someone you know) have any photographs or video of these events, please feel free to contact Michael Bath. Your contributions are very welcome.
---
Radar
From Bureau of Meteorology.
Grafton local scale loop 0000z to 1300z 22/03/2003 (11am to midnight local)
---
Satellite Images
From Bureau of Meteorology at 11am, 2pm, 4pm & 5pm and 8pm local.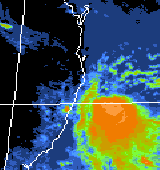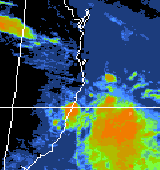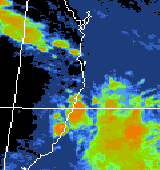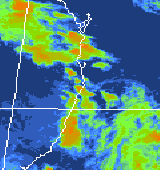 ---
Analysis Chart
From Bureau of Meteorology.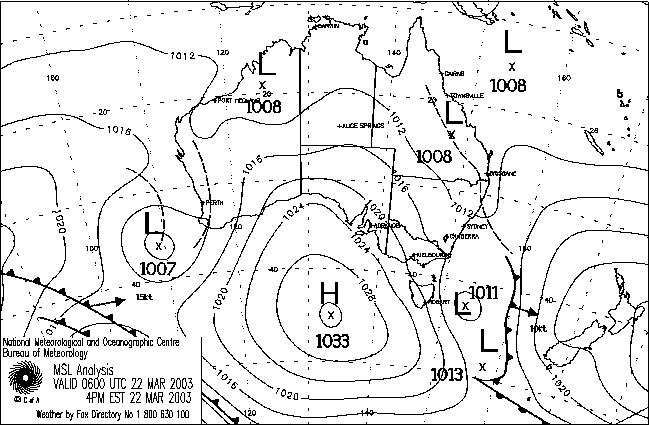 ---
AVN Model Analysis
From NOAA 22/03/2003 06z analysis run
Winds (knots) 300 hPa
---