---
A weak southeast change had moved though overnight with a slow moving trough line, bringing scattered small cumulus to the Northern Rivers by morning. Normally this brings more stable air and an end to any chance of storms apart from on the ranges to the west and northwest. However, unstable air was forecast to remain with CAPE around 1,500 and LI about -4. The air was very dry from 700 hPA upwards, but quite moist down to the surface. Temperatures were similar to yesterday with -40 at 300 hPa and -12 at 500 hPa. The change was quite shallow with SE winds evident to 850 hPa, then mainly west above that. Wind speeds were 25 knots by 500 hPa and 60 knots from the west at 300 hPa.
Due to the scattered small cumulus and light SE winds I was not paying too much attention to any storms that may form. The initial development was off to the WNW - northeast of Tenterfield in the usual hilly areas. By 3pm storm activity was underway W and SW of Casino. I could see the storm tops in the distance through the closer cumulus, and it appeared quite weak at first, wispy anvils, and tops not all that high.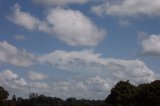 Early shot of the developing storm by Dave Ellem
Shortly after my previous scan of the sky the storm intensity had really picked up, the cell now had a strong NW flank with tops reaching the 13-14 km height mark. Backshearing was also now evident.
I headed off knowing that I should have left about 30 minutes earlier. I raced though Lismore and straight towards Casino. At first I could see the very high cloud tops, but none of the base, and the tops eventually became obscured by other cloud. There was no time to stop and take pictures or video so I managed that while driving. The thunderstorm base came into view after passing over the Parrots Nest hill. The storm was not far SW of Casino and heading NE.
A very large N-S aligned gustfront feature was observed with interesting raggedy scud features and a prong towards the southern edge. The storm appeared quite strong and likely to be producing or about to produce severe weather. CG lightning was occurring but not very frequently.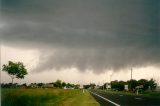 I continued the drive into Casino, stopping briefly on the eastern outskirts. A branching CG hit within a few hundred metres away. A rain curtain was evident a little further west so I proceeded towards it. The storm looked like it was going to produce very heavy rain and hail, perhaps strong winds, but large hail was unlikely. I drove to the NW outskirts of town where the storm unleashed pretty much over my location. From 4.50pm very heavy rain and gusty SW winds to about 70km/h hit, followed by a few bursts of hail to 2.5cm diameter, but mostly about 1.5cm.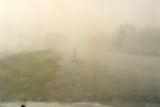 After it eased I drove back into town where the rain was still quite heavy - some flash flooding had occurred. A local observer measured 25mm of rain in about 10 minutes from the storm.
I had seen no hail since 26th March 2002 - almost a year, yet this month I have chased and seen hail on the 16th, 22nd and now today. Today's was a case of get in the car, drive to Casino, get hailed on, and drive home. It felt a little weird and fast, but I'm not complaining !
If you (or someone you know) have any photographs or video of this event, please feel free to contact Michael Bath. Your contributions are very welcome.
---
Radar
From Bureau of Meteorology.
Grafton local scale loop 0250z to 0700z 23/03/2003 (1.50pm to 6pm local)
---
Satellite Images
From TWC Weatherzone at 5pm local.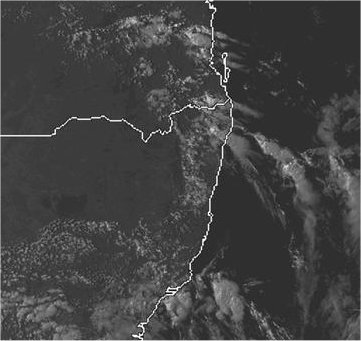 ---
Analysis Chart
From Bureau of Meteorology.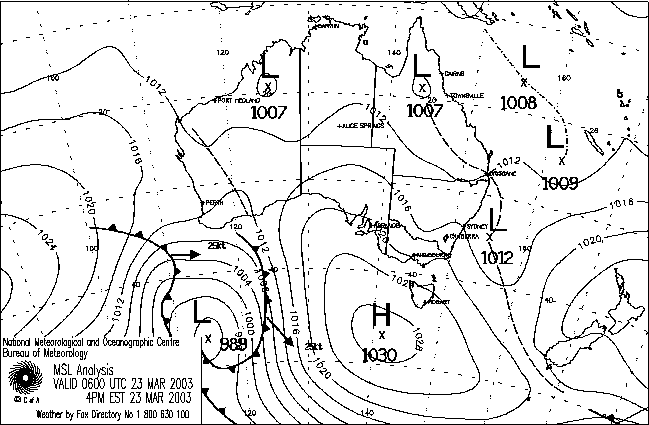 ---
AVN Model Analysis
From NOAA 23/03/2003 06z analysis run
Winds (knots) 300 hPa
---