---
At 6.15pm a rather violent storm hit the Grafton area targeting the city's CBD but also affecting the town's surrounding areas. The cell which developed on the ranges near Dorrigo moved NNE towards the Grafton area, with pink and red reflectivites on radar just before it hit. As the storm hit it brought with it violent straight line winds and torrential rain. The strong winds lashed the town bringing down trees and powerlines, taking rooves of buildings and hurling debris through windows.

Much of the town was affected with some sort of damage, but the Rowing club was particularly hard hit, losing their roof and a lot of their equipment. The local school received water damage to computer rooms causing much damage to computers and electronic equipment. Many trees that were brought down caused further damage by falling onto buildings.

One man was lucky to escape when a large fig tree fell on his car whilst he was inside. The heavy rain also led to flash flooding in some areas, also causing extensive damage. Power was cut to 10,000 homes as the winds brought down major lines in the cities centre. The SES attended to 50 calls for assistance and worked tirelessly to clear debris from roads and put tarps on rooves. At this stage the damage bill is expected to be over $1 million.

Storm chaser Scott Hills was in the area and reported the following: "I didn't see much at all heading home but my view of the storm at 6.00pm was as good as they get. Kicking myself for not getting pics. There seemed to be a rotating cloud base on the eastern side of the storm rotating counter clockwise view from below. The gust front was riding right on the rain curtain not too far out ahead or detached, it also curved into this rotation hotspot on the east side. Colouration was very similar to the February 13th with a greenish tinge. When it hit there was maybe two minutes of intense wind with no rain, then a deluge of heavy rain and extreme winds. I was next to Catherine McCaulley College which lost its roof. It was incredible and the blackout blew out my next few lessons so I could chase!! Incredibly my car out on the street was untouched though debris was everywhere else. What a storm!"
---
Media Reports
---
Radar
From Bureau of Meteorology.
Grafton local scale loop 0120z to 0900z 10/03/2003 (12.20pm to 8.00pm local)
---
Satellite Images
From TWC Weatherzone at 4pm and 5pm local.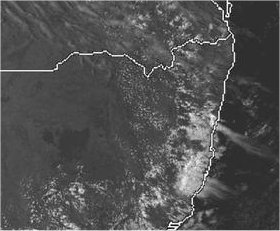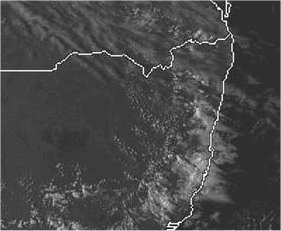 ---
Analysis Chart
From Bureau of Meteorology.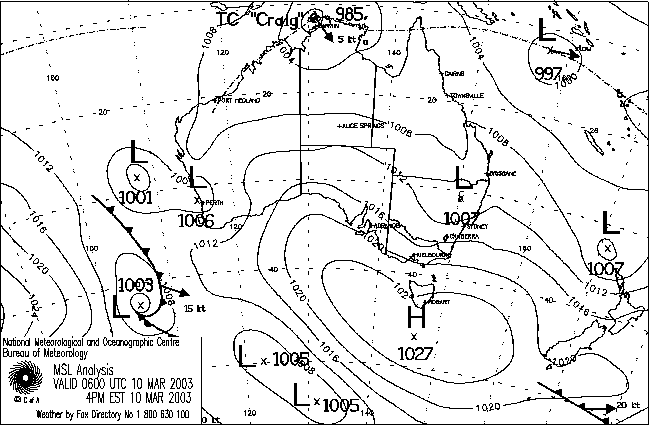 ---