---
A weak surface trough in the area wasn't expected to give anything more than a possible shower. I had been whinging to Michael Bath during the afternoon that it looked like another boring weekend of weather in NE NSW and the models didn't provide any hope for something exciting for the next seven days. The sky had looked marginally unstable in the morning with some AltoCu around but nothing really special. I was desperate for some sort of storm structure!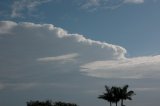 At about 4.15pm I was outside and happened to glance out to the NW and noticed a fairly decent updraught (given I wasn't expecting anything and it was still winter)! It seemed to be pushing up into some lenticularis type cloud which gave a lovely appearance. I raced inside to grab the camera and found Michael was sending me a message on ICQ saying 'look out to the NW!'. I quickly jumped back outside and grabbed a photo of the weak cell which also had a nice RFB. The sun behind the updraft was giving some nice colours and crepuscular rays.
The cell continued to evolve with some pileus developing on the updraft and beautiful sunrays peering through a gap in the cloud. It was quite a nice sight!
I came back inside for a bit and checked radar. The cell to my NW had begun to precipitate and had reached yellow intensity on radar. This was fairly accurate as the cell didn't look to be giving off much rain. But what surprised me was that to my SW on radar there was an ok sized cell that had reached green intensity. I ducked up onto the roof to look and there was a cell with soft'ish updrafts, but it had tons of pileus!
I was torn between the two cells, not sure whether to keep my eye on the one to the NW or the one to the SW. The one to my NW was much closer and still producing some nice structure, including some interesting base features, but I couldn't ignore the now stronger looking updrafts to the SW that were just covered in pileus.
As the afternoon progressed I watched updraft after updraft go up to my SW, each one having pileus draped all over it. It was a lovely sight. The cell had developed a nice sized pink core on radar by now but was still very low topped. It seemed instability was confined to the lower levels of the atmosphere with very stable air just above the cell. It was at this point I noticed some pyrocu developing over a fire just in front of the cell to my SW - evidence of the instability. The incredible strength of the shear was evident too, with the storms anvil being whipped away very quickly to the east. 500hPa winds were around 60kn! What a contrast to the shear we were having last summer! I continued photographing the lovely updrafts as the sun lowered and illuminated them a brilliant orange colour!
The cell to my NW fell apart quickly as the sun dipped close to the horizon but the cell to my SW just kept on going well after sunset. I took a few last pics of the action before heading back inside after the sun had set.
As night fell, the cell, which was now south of me, produced some infrequent lightning. A cell further away to my SE (about 90km away) had reached red intensity on radar. I could see this cell glowing in the distance much more regularly, maybe every 10-15 seconds. Cells continued to pop up off the coast into the evening but none were close enough and active enough for any decent lightning opportunities. Still, I was pretty impressed with what I'd seen during the afternoon and evening. I didn't have to wait too long after whinging to Michael for some storms to occur!
---
Radar
Grafton local scale loop 0520z to 1050z 08/08/2003 (3.20pm to 9.50pm local)
---
Analysis Chart
From Bureau of Meteorology.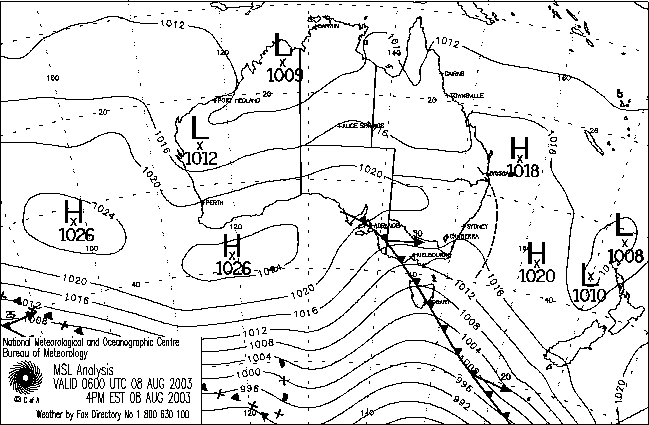 ---
AVN Model Analysis
From NOAA 08/08/2003 06z analysis run
Winds (knots) 500 hPa
---