---
A cut-off low in the south had set the stage for a large storm outbreak in NSW, with wind shear of increadible speeds and some very unstable air. The system favoured inland areas, and parts of central NSW recieved some very large severe storms on the 1st and 2nd of October. As the system progressed closer to the coast, I had hopped that some action would make it to the coast and although not overly confident, I felt that we could see a squall line form inland and make it to the coast.

A solid line of lightning on TWC Lightning Tracker over the Northern Tablelands had prompted me to head out to the Richmond Ranges at around 3pm. As I finally left home at 3.30pm with my brother and a friend, the top of the fast moving squall line was already visible to the west. The line was traveling at around 70km/hr so I figured that by the time we reached the Mallanganee lookout that the line would have to be fairly close by as it was already over the Tablelands.
By the time we got to Casino the anvil was over the top of us and was quite weak in appearance. There were no visual features and no lightning. A feeling of disappointment was beginning to set in. We decided to stick it out and go to the lookout at Mallanganee and as we approached our target we got a call from Michael Bath to say that the light precipitation ahead of the main part of the squall line must already almost be over us. And as we got to the top of the lookout, it started raining. There were still no visual features, but at least there was plenty of thunder and the occasional CC.
We decided to head back to the coast to try and stay ahead of the line in case it developed a gust front, however it was pretty ordinary on the way to Casino, with only an occasional flash and rain falling ahead of the main line. By the time we got to Casino though, a more defined rain curtain seemed to develop, although it was still raining ahead of the line. We were probably only just 1-2km away from what appeared to be extremely heavy precipitation as we came out of Casino. With the line looking more intense and precipitation so close to us we decided to pull into Parrots Nest and see just how strong the squall line was. I certainly wasn't prepared for what was to come!
We parked on the eastern side of the Telstra shed, not intentionally, but we were glad we did in the end. The heavy precipitation moved over us and was - well, quite heavy! After about 1 min of really heavy rain and some lightning and also after just saying "gee there's not much wind", it hit! 70-80km/hr wind gusts blasted through the trees and made the car rock! We got a bit of a shock. But it only increased from here - soon wind was bending the trees in an easterly direction in a wild fashion! Winds soon blasted past at 100km/hr with a roaring sound outside and the car being rocked around despite being somewhat sheltered by the building. It was fun watching the rain go past horizontally - so much so I had my easterly facing window open and no rain came in!
My brother, who came along to try and get into the whole storm chasing thing, decided that he was going to be a true storm chaser, and before I knew it the door was open and wind and rain blasted into the car. When the door slammed shut again I saw my brother standing outside in 80-100km/hr winds being blasted by heavy rain! His excited cry cannot be described! He very quickly jumped back in the car and now felt like he was a true storm chaser...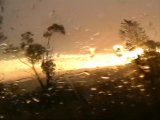 The wind quickly died down after this - it probably only lasted 5-7 minutes. We decided to avoid Lismore traffic and take the back way home. Bad idea. I hadn't thought that the winds would cause that much damage but I was wrong. As we neared the Tregeagle area, we came across large trees blocking the roads. The first one we got out and moved, but soon came to another one that we couldn't move, so we turned around and went down another road - and again, another even larger tree down. Behind this tree were more trees down, so we had to go the long way around via Alstonville.
Driving through main street was eerie as the whole street was without power, leaving it pitch black. It was good to see the blackout hadn't deterred some people though and it was still business as usual at the pub!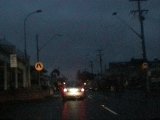 The squall line had produced severe winds through most of the Northern Rivers, with reports of damage to rooves in Lismore and Grafton, however damage outside these areas is likely to have occurred. It was a pretty strong start to the official severe thunderstorm season, although I was disappointed by the complete lack of any visual features.
---
Weather Webcam Timelapse Sequence from McLeans Ridges