---
The day was looking pretty marginal when looking at the models. AVN was suggesting 0 to +2 LIs and around 100 Cape for the Northern Rivers, and with lots of moisture and very little wind shear, I wasn't very convinced of anything interesting occuring just going by the models. However, standing outside hanging the washing in the morning, the air just had that feel to it. The sky looked unstable and there was that feeling that the area was going to see afternoon storms. I had hopes of getting a nice gustfront this day as I hadn't seen a nice one since the March 30th supercell outbreak.
Whilst working Michael Bath pointed out that there were some nice Cjs on the ranges to the NNW. They looked quite solid and had nice contrast - an encouraging sign! Soon after at around 10.25am I checked Grafton radar and there were echoes evident around the Dorrigo area.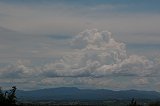 I kept my eyes on development on radar and visually for the next hour and a half until 12 noon when a cell on the Richmond Ranges went red. With other cells in the red down south I decided to head out to Mallanganee for a look. My sister in law was trying to avoid doing an assignment so she came along as well!
The trip to Casino was encouraging, with SMS updates from Michael that there was plenty of activity around including cells in the red to the south, plus the sky to the W and S was very dark which is always nice to see! We stopped quickly for lunch at KFC and headed west of Casino and found a spot to watch the action while we ate. After eating we headed down the road a bit till we had a good view of a cell to our WSW. It was now around 1.30pm. This cell was really interesting - it had a nice rain area surrounded by a rain free area which had rippled cloud, somewhat like mammatus above it. It wasn't like mammatus on an anvil though. Hard to describe, but it looked pretty cool.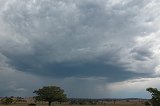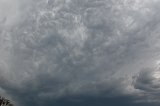 We moved a little further down the road to Mallanganee to watch the now really close rain curtain. The cell was green on radar and looked pretty intense, but there was no lightning or thunder. There was plenty of static on AM radio, however I figured it had to be from the stronger cells to the south. These pics were taken around 2pm.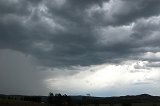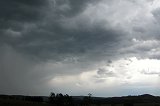 We got some fat cold drops but that's about it. The rain curtain just didn't move over us - everything was so slow moving! The only thing worth chasing appeared to be the stuff near Grafton that was still red on radar. So we headed back to the southern side of Casino near the old airport. We finally saw a bit of lightning and the southern sky was very dark. After having a chat with Michael I decided we'd meet up at my house and chase down Evans Head way to catch the action that was to my south - a nice line of red near Grafton. I had to head back home to drop my sister in law off for an appointment and the trip back was painful! By Parrots Nest, it was evident a large line of storms was forming and a gustfront had began to develop. I quickly stopped at 3pm for a panorama before racing off for home.





Driving home was terrible - the usual busy traffic in Lismore had me stressed, but I finally made it through (after being stuck behind a cattle truck and a fire engine). The glimpses I got of the sky to the south was amazing - a very long gustfront extended well to the south and stretched nearly right to the north. I finally got home, threw my gear in Michael's car and we were off! The sky was so dark to the west, and a couple of CGs were now dropping out of the storms - bright white against the dark sky! We raced to the Southern side of the Alstonville Plateau to where it drops away with expansive southern views. Sadly the guster moved over us before we got there at 3.40pm, so we didn't get any good photos of that guster, however the cells were weakening and the precipitation curtain was still a long way off. It was all pretty disorganised really.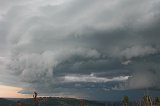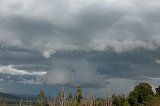 We sat and watched for a while, enjoying the cracks of thunder and occasional CGs. I ran up the road a bit to get a photo of the guster to the north and then we decided that this would be the best spot to park the car as the precipitation now stretched to the west.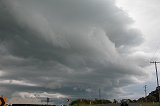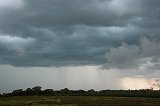 We watched the precipitation for sometime, with occasional lightning and thunder still occurring. There was a green tinge in the clouds too, however it now wasn't as dark as before. There was also quite strong outflow that was so cold!! I had to sit in the car as I had no jumper and was freezing!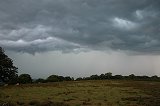 At around 4.10pm we concluded the cell was really weakening and a cell to the NW was giving off much more frequent CGs and was very dark, so we headed for the Northern side of the Alstonville Plateau. We stopped just a few hundred meters from my home at around 4.20pm, observing the gustfront and heavy precipitation from the WNW round to the N.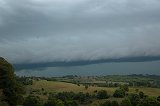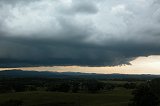 Lightning wasn't overly frequent, but there was still enough to be entertained. This cell also had a green tinge too which came out nicely in the photos but it was amazing how dark it was considering the sun didn't set for an hour and a half. Once again the cell was very slow moving.





We continued to watch and enjoy the show, however cold outflow winds once again left me feeling freezing cold!! The cell we had watched was also approaching from behind us and was giving off infrequent lightning. After a few last pics we drove up to my place at 4.30pm to watch the rain move over and for me to get a jumper!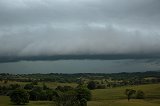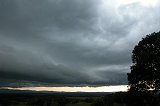 I quickly ducked out to the back of my house to get a photo of the cell to my S and then returned to the front of the house to watch the other storm. Everything was weakening now, but it did eventually bring welcomed, steady rain. There was also some nice close CGs and CCs that my Dad, Brother, Michael and I watched for a while to finish the chase. Certainly was quite relaxing and enjoyable to just sit, watch and chat! A large rain area developed over us at around 5.30pm and gave some heavier rain and regular lightning till just after 6pm, before eventually clearing out for the night.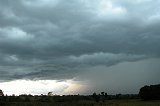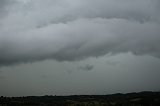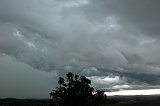 John Bath took these photos from Ballina:
---
Video Clips
Video footage taken at Wollongbar by Dave Ellem: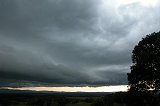 Timelapse sequence [968kb]
---
Weather Webcam Timelapse Sequence from McLeans Ridges