---
Images appearing on this page must not be reproduced without permission.
A cloud band had moved through the Northern Rivers district during the morning with some heavy rainfalls totalling up to 35mm in 2 hours or so. It took until about noon before the last part of the cloud cleared to the east. Severe storms developed over the border in Southeast Queensland about 200km to the NW.
The Northern Rivers remained largely clear of any cloud apart from some medium sized cumulus persisting westward of the coast. Winds which had been northerly tended to the NW and the sky took on a rather dry appearance but the DP remained in the mid teens. Cumulus persisted and the winds eventually tended to the NE by about 4.15pm. Turkey towers developed NE of Grafton, and it wasn't long before an isolated dominant cell really took off.
Storm chasers headed to a vantage point just south of Alstonville and were treated to one of the most beautifully structured LP supercells ever recorded in Australia. Hail to 4cm diameter was reported at Wardell and Woodburn. The photographs and video tell the story....
Photographs taken from Wollongbar, Meerschaum and Alstonville by Dave Ellem:




Photographs taken from Goonellabah by Ray Mullens:
Photographs taken from Ballina by John Bath:
Photographs taken from Lismore looking towards Woodburn by Isaac Smith:
Photograph taken from Rosewood (SE QLD) by Anthony Cornelius: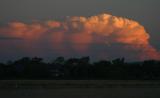 ---
Video Clips
Video footage taken at Meerschaum by Michael Bath: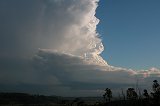 Timelapse sequence 1 [2.1mb]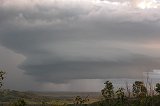 Timelapse sequence 2 [957kb]
---
Radar
From Bureau of Meteorology.