---
Today's setup was similar to yesterday with shear only light to moderate in strength, but exhibiting some reasonable turning in the lower levels: 925hPa - N 15kts, 850 NW18, 700 W25, then mainly W or WSW at 30 or 40 kts up to 300. Storms were generally expected to head slowly eastward with stronger cells ENE. The main difference today was the cap, yesterday it had been virtually non-existent with storms and cloud developing too quickly, but overnight some mid-level level warming had occurred. I expected storms to form later in the day but was pretty certain they would given the instability indices: CAPE around 2500 and LI around -7 for the western parts of the Northern Rivers region.
During the entire morning period only some small cumulus developed, there was not even the hint of any congestus. Despite this, I headed off on chase just after 1pm, picking up Dave Ellem from Wollongbar then we met Rodney Wallbridge at Goonellabah. The sky still lacked anything much of interest apart from some storms about 200km to the south near Coffs Harbour and Dorrigo, and some congesting cumulus to the far SW - somewhere between Grafton and Glen Innes.
Heading west towards Casino some reasonable looking cumulus were observed along the eastern part of the ranges. A couple of these grew a little taller with one in particular taking on a thick turkey tower appearance. It persisted and was in a direction consistent with the initial target area of the Mallanganee lookout on the Richmond Range 40km W of Casino. As we headed further west everything started to look junky and weak. I was feeling apprehensive about heading west as some much stronger looking cells were somewhere west of Grafton and also south of there. We headed back to Casino to stop and get a feel for what was going on and likely to develop. Whilst waiting we observed quite a rare cloud formation - a horseshoe vortex. Maybe a sign our luck for the afternoon was about to change!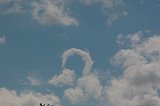 After a short while it was agreed to head west to the original target area once more. It was just too far to head south to the cells there, and some promising new convection had formed in a similar location to the earlier turkey tower. It was a good decision as it was soon obvious this cell was really starting to get going. We could not see much of the base during the drive west, but the storm was pushing up crisp solid towers on its NW flank. It soon begun to anvil towards the ESE while thick well contrasted features occurred on the north and northwest of the cell.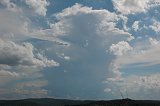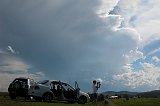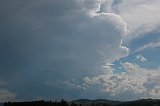 It was very exciting to watch this storm evolve from nothing into a strong looking storm, especially knowing that it was likely to be very close to the Bruxner Highway allowing for great intercept possibilities. By 3.15pm we were parked at the top of the Richmond Range overlooking the valleys to the west, and in awe at the beautiful storm cell about 15km to the WSW. As soon as we saw the base it was clear the storm was becoming highly organised with a very good separation of inflow from outflow. The rain free base on the northern side of the storm was large, rippled, and growing fast with subsequent updrafts visible shooting up the NW flank. There was a nice gap then a little precipitation falling S and SE of the inflow area. The thick anvil was slowly spreading towards the ESE.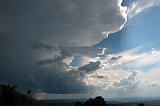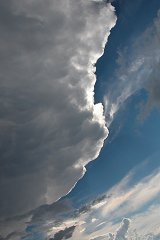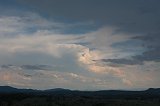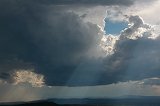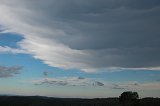 Northeast winds were feeding quite strongly into the updraft, picking up in strength occasionally, presumably as each new tower formed. The rain free area grew in size horizontally over the time we observed it, but the storm was barely moving. There was regular thunder coming from in cloud and anvil lightning, but not a lot of CGs. It was not clear if any rotation was occurring at this stage, but it was definitely looking more and more like the features expected from a developing supercell.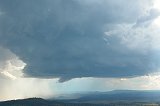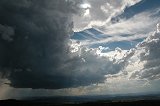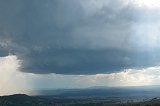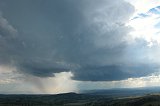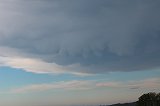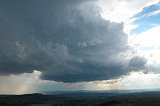 We watched the storm for about 30 minutes from the Mallanganee lookout before deciding it was getting a little too close. The lookout has several communication towers on it and some CGs were occurring fairly close by. Rodney did not want to get any hail on his new car, but Dave and I decided we wanted to see what was going on closer to the RFB. Rodney headed north along the Richmond Range into the national park hoping to then head east to Kyogle later on. Dave and I drove westward down into the valley, then up a side road off the Bruxner Highway about 5km west of where we had been previously.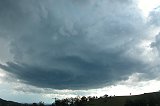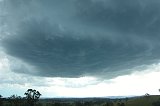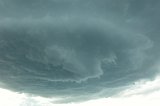 We were right under the eastward edge of the RFB, which was looking more and more like a meso. The storm was moving slowly towards the NE. It looked like the precipitation was a few km to our SW, however things changed quite dramatically just before 4pm: smash ! - a large hail stone shattered onto the road way in front of us, then another, then several more, and they were big ! It was a weird feeling, no rain at all, hardly any wind, and chunks of ice smashing and bouncing all around us. They were well spaced though as it took a while before one hit the car. This eased off for a few minutes before it returned with larger stones and more of it. The sound on the car was amazing, along with the excitement of us in it ! Some hail was getting quite large with stones around the 5 or even 6cm diameter falling, though most was 2 to 3cm. We called the State Emergency Service and Bureau of Meteorology to report the large hail, then enjoyed the show as the hail continued. There was very little rain for about 10 mins, then rain and hail fell for a further 10 minutes after that. We collected a few hailstones to measure them, the largest found was 4cm.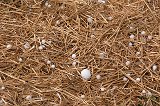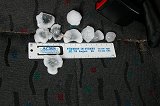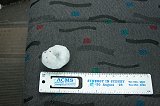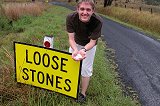 We decided to head back east and try to get ahead of the storm and meet it along the Casino to Kyogle road. Normally this would be impossible, but this storm was moving so slowly we had a good chance. After crossing the Richmond Range and heading back down the eastern side of the hills, we drove into the precipitation area once more. Hail soon started and got bigger and full on for a while. The fields were becoming white from the quantity of hail falling, some of which was again golf ball sized. Hail event number two, we almost couldn't believe it. The hail eased off by about Mummulgum, but the outflow rain persisted on the drive back to Casino. During the drive we could just make out the rain free area on the northern side of the storm. It still looked very strong.
We drove through Casino then headed north on the Kyogle road. The stupid train level crossing lights were on so we had to stop and wait, and wait ... but no train. Dave got out to check the tracks and could see no train so we drove through. Soon afterwards we again encountered heavy precipitation, then hail again ! It was small at first but as we continued northwards it got large. We pulled over where we could see the very large meso structure.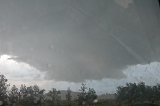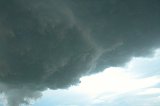 The hail was the most spectacular of the day here, very large stones bouncing all over the place, smashing into the car, it was just amazing... We shot north again to try to get on the other side of the storm and watch the advancing system. It wasn't long before we were in a good position now facing south as the storm advanced NE. Base rotation was quite evident here, and a very obvious hail shaft was just behind it. To the southwest was a new storm with what looked like a wall cloud, but it was a little too distant to be sure. Another storm was north of that one, and to our west.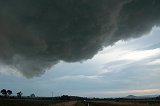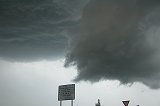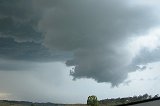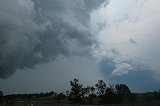 We watched the meso a little longer before deciding to head back south and see what the next storm would produce. It was now about 5.45pm and we had been under or near this supercell for over 2 hours, and encountered large hail 3 times from it, but it was now starting to weaken.
By 6pm we were on a side road NW of Casino watching the next storms move in. Lightning was going berserk to the WSW and WNW from two cells, unlike the previous storm chased which did not have much visible lightning. Rodney called in to say he had captured awesome structure shots of the supercell from the northern side.
Tripods were set up and it was a matter of waiting for the CGs to occur. It was an awesome display, with some lightning occurring very close by. Lightning seemed to be going off in all directions when some light rain started to fall from the outflow of the cell to the WNW.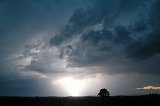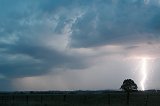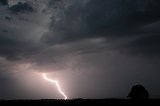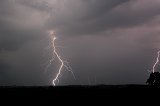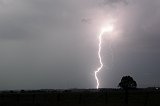 We drove into Casino to get some food, then went back north to about halfway between Casino and Kyogle to see what this storm would produce. It was fairly slow moving as well, and this time a shelf cloud feature had developed. It edged over, the lightning was strobing all around, the sky was going off every fraction of a second ! The rain started, with some heavier falls in bursts with the odd bang of hail on the car roof. Then a real torrent fell and hail got to around 1 to 2cm diameter, but this did not last long.
The sky was still electric during the entire drive home to McLeans Ridges. Storms were firing along the Queensland border so we all enjoyed the lightning show for a while before calling it quits about 10pm.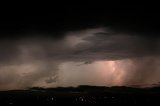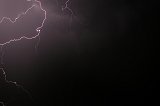 Photographs taken from Goonellabah by Ray Mullens:
Photographs taken from Ballina by John Bath:
Photographs taken from near Casino by Scott Hills:
Michael Lloyd from Brisbane also chased in the Casino area and captured these images.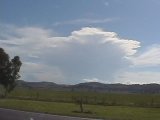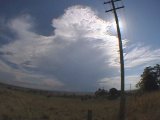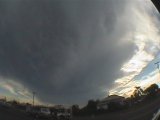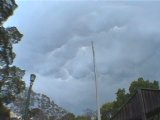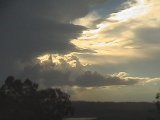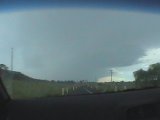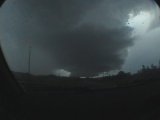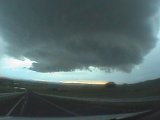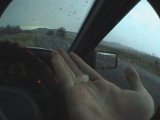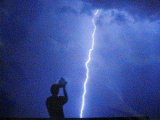 Michael started his chase in Lismore before deciding to head to Casino to watch the developing cell, but then back tracked to Lismore to watch from a lookout. After discovering it had a red core on radar at 3.30pm he headed to Kyogle to meet the storm, eventually moving into the hail shaft before quickly retreating to the NW flank of the supercell to watch the mesocyclone area. The hail shaft moved over again and gave larger hail this time, so he raced to Kyogle before heading back to Brisbane, enjoying the lightning display on the way!
---
Video Clips
Video footage taken from the Richmond Range by Rodney Wallbridge: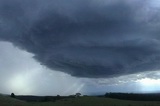 Timelapse sequence of meso ending at 4.26pm (high quality) [3.21mb]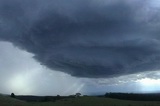 Timelapse sequence of meso ending at 4.26pm (lower quality) [661kb]
---
Radar
From Bureau of Meteorology.