---
A very nice cold pool was moving towards NE NSW and was dropping 500hPa temps down to around -21C to -22C!!! Incredibly cold for late spring! This meant that severe storms were still likely despite surface temps likely to stay below the mid 20's in a moderate SE'ly flow. It would have been interesting to see what would have happened had the cold pool combined with warm surface N'ly winds!

I finished work at 1.00pm and quickly ate lunch as weak storms had developed to my west and were slowly heading towards my home. Stronger storms were effecting the area SW of Grafton by this stage. By 1.09pm the Bureau had issued a severe thunderstorm advice for the Northern Rivers:

TOP PRIORITY FOR IMMEDIATE BROADCAST
NSW SEVERE THUNDERSTORM ADVICE

Issued at 1:09 PM Monday 24 November 2003.

The Bureau of Meteorology in Sydney has issued a Severe Thunderstorm Advice
for people in the following weather forecast districts:
Northern Rivers.

This advice is valid until 4 PM and should not be used after this time.
Thunderstorms are forecast within the advice area, which includes Wooli,
Grafton and Lismore. Some of these thunderstorms are expected to be
severe, bringing large hailstones, damaging winds and very heavy rainfall.

I was out the door at around 1.15pm, but not before taking a couple of pics of the approaching weak storms to my west.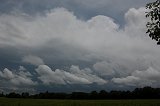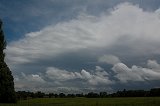 I originally just headed down the road a little bit to get a clearer view of what was happening to my west. I spotted a few CGs which got me excited, but the storm was otherwise featureless. Just a dark wall of heavy rain and no doubt small hail. I came back home to get one last radar update as I was considering heading towards Saint Helena near Byron Bay in case the cell picked up as it neared the coast. Radar revealed the storm possibly beginning to split so I quickly took one last photo before racing towards St Helena.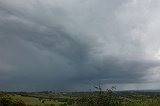 When I arrived it was clear the originally eastward moving cell was heading more NE as it developed on its northern side. I watched the cell which had some sort of shelf cloud structure that was being obscured by messy stratocu that was blowing in with the now strong SE winds. How frustrating! Some lightning was observed, and the precipitation core had a green tinge to it.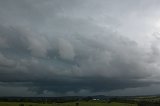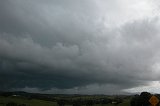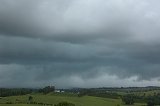 I watched this from about 2.10pm to 2.30pm as it moved towards the NE. The precipitation curtain racing towards the NE looked cool from my angle, with some mountains behind it making for some interesting photos. Some scuds formed and rose up ahead of the precipitation curtain. It wasn't long before the rain started at my location, and I decided to head home and see if other stuff was developing behind this storm.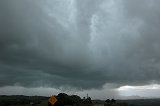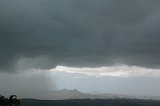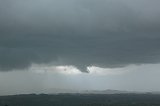 I dropped in at home again for a radar update (sadly I had no one I could contact for a radar update....) and saw a nice cell in the red SW of Casino. Before I had arrived home I could see this cell put up a massive and very crisp updraft, so it was not surprising seeing its intensity on radar. It was originally heading for the Evans Head area, but in the last frame looked to be veering more NE. I decided to head to the Tucki area as it gave me the option to head to Casino or Woodburn, depending on what the cell did. On the trip out it became clear I was going to have to head towards Casino and sit near it's NW flank. I stopped at Fig Tree Lane, east of Casino, at about 3.15pm and watched the cell which was again fairly featureless, but was giving some CGs and displayed a very dark rain curtain!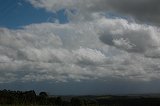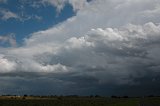 I sat and watched as the cell looked to go through a weakening stage, and became impatient at how nothing was happening, but by 3.50pm it was starting to get a little more organised and I was one again presented with a splitting cell! To my SE the storm was developing an RFB (rain free base) under a very nice solid tower. And to my WNW the other cell was beginning to develop a weak gustfront! Finally something to watch!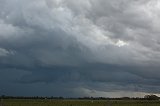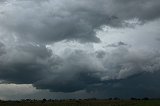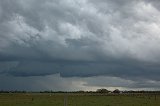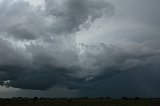 These features on the two storms continued to look more organised. But I was faced with the decision of sitting and watching both or concentrating on one and trying to intercept it. While I'm a huge fan of the old gustfront, this cell was beginning to look a little weaker, so I decided to head towards Woodburn and intercept the stronger looking cell with the nice RFB!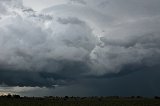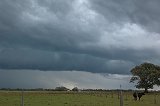 As I approached a T-interesction which heads to either Coraki or Woodburn I stopped to take some photos of the large updraft and RFB that I was almost underneath. I always feel so little when I'm sitting right next to updrafts this big! The base was certainly very dark and a CG dropped from the base several kms away from me! I decided I'd better quickly head towards Woodburn so as to get under the RFB and then into the storm's rain area.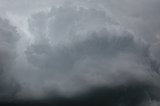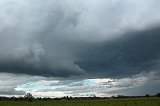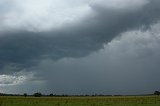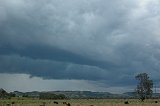 A few kms down the road and I was now under the RFB, although it wasn't really an RFB because it was at this point I started receiving moderate rainfall and a heap of 0.5cm hail! There was so much of it! With the upper atmosphere so cold it was as if almost every little rain drop was freezing and falling to the ground! I made my mistake for the day here. With the storms heading east-'ish, I should have taken the road to Tucki and stayed under the hail region, however I headed further SE hoping to get into the heavy rain. It turned out that I was just a couple of kms from the rain shaft until I reached another T-interesction which lets you go to Woodburn or Broadwater. I figured since I wasn't getting closer to this cell I'd head back home via Broadwater. On the way back I got drizzle and one CG within about 2km which gave an almighty bang!! As I reached Alstonville I passed through some heavier rain before arriving home at Wollongbar. Before I ended my chase I got one last pic of a cell just N of my place. The sky just turned to drizzle and strong, cold S'ly winds persisted for the rest of the afternoon with all the activity over.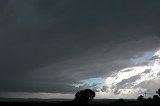 ---
Radar
From Bureau of Meteorology.
Grafton local scale loop 0150z to 0900z 24/11/2003 (12.50pm to 8pm local)
---
Satellite Images
From The Weather Company

GOES 9 VIS image 02z
GOES 9 VIS image 05z
GOES 9 VIS image 07z
---
Analysis Chart
From Bureau of Meteorology.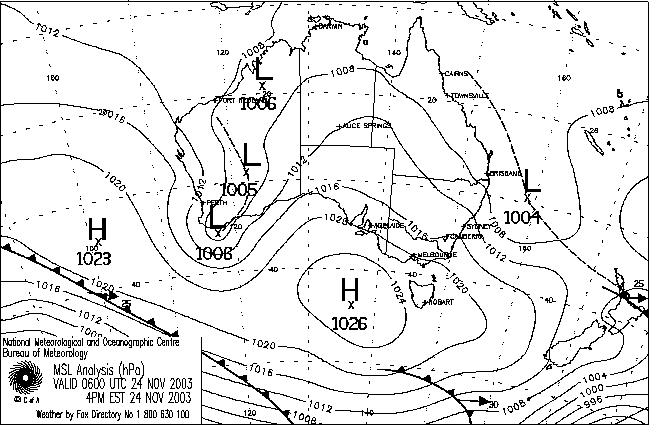 ---
AVN Model Analysis
From NOAA 24/11/2003 06z analysis run
Winds (knots) 300 hPa
---