---
The 2002/2003 storm season was indeed an unusual season. This season saw a movement away from the traditional storms we tend to receive in the region with the most impressive storms occurring in March. Instead of the frequent number of higher precipitation hailstorms and supercells, we saw a movement towards lower precipitation, pulse type storms. One significant ingredient missing throughout this season was decent wind shear. There was not one setup in the early part of the season that indicated that supercells were very likely, and we were plagued by many storm days where the strongest winds were 20kn at 300hPa!!
Despite this often depressing feature of most of the storm setups, it gave us a chance to experience some amazing lower precipitation storm features - one of which gave an amazing lightning display! But along with the lower precipitation storms, we did get to see a couple of higher precipitation storms, with a powerful HP Supercell causing some significant damage in the Lismore area on Christmas Eve and an absolute monster HP Supercell that hit the Coraki area in late March, with some of the best supercell structure ever documented in Australia. All in all, we experienced more severe storms than the previous season and had numerous successful chases, particularly in March, in which we gave chase to thunderstorms on 4 of the 5 weekends during the month. Below is a brief account of the most significant storms of the season, beginning with the June 16th storms. To read the relevant storm chase report, click on the summary heading.
This day saw unusually high temperatures and humidity in the NE of NSW, and the rare heat was accompanied by enough instability for severe convection. Wind shear speed was incredible this day, reaching 60kn at 700hPa and a whopping 110kn at 300hPa!! The strength of this shear was enough to support strong supercells and tornadoes, however there was little turning with height, most shear coming from the NW. The result was very fast moving severe storms, with winds over 100km/hr causing widespread severe damage throughout NE NSW and SE QLD. I chased in the Casino region and encountered a severe storm that had torrential rain and severe winds, taking rooves of buildings and bringing down large trees. Ocean shores later copped another severe storm that took rooves off a number of houses, causing significant damage. Widespread blackouts were also experienced throughout the region. Certainly a summer type storm day in the middle of winter!
I think this day surprised everyone. Isolated showers were forecast but by early afternoon it became apparent a severe hailstorm was developing. It tracked over Casino and headed NE, later affecting the Mullumbimby area. Although the hail wasn't overly large, stones did reach over the 2cm mark, causing little damage. Weak showers and storms affected most of the Northern Rivers throughout the afternoon, although no other significant storms developed.
Saturday 7th September 2002
This day was a little disappointing for the NE corner of the state. As was to become the case with most of our setups for the season, there was just too little moisture to support decent storms. SE QLD enjoyed some larger storms, and one particularly severe looking storm was seen off the coast of SE QLD from my home. Despite the lack of significant storms in the region, we did enjoy a nice sunset!
LIs and CAPE were fairly impressive for September over the area, although off the coast they reached an amazing -12!! Storms developed along the coast from the Mid North Coast into SE QLD. A couple of severe storms developed amongst these and an STA was issued for a number of districts in the NE corner of the state. Large hail and strong winds were experienced in the Northern Rivers during the late afternoon. Convection moved offshore during the early evening. Certainly the first decent storms of spring.
Reality of drought hit this day when most of the east coast of Australia was engulfed by a dust storm over 1000 kilometres long! In some places visibility was reduced to 200m as the chocking dust was carried ahead of a strong cold front. Millions of tonnes of topsoil were lifted from the drought affected inland and carried out into the Pacific Ocean. This was certainly a unique event that hopefully won't happen again for a long time.
Monday 4th November 2002
This was the first storm day of the November. Again this day didn't live up to the high expectations I had. A thick, slow moving cloud band cleared just in time for the hot sun to start heating the ground. Storms developed and produced some lightning and a little bit of rain, although there was little significant weather. Again, SE QLD seemed the place to be, with stronger storms developing up there.
At first glance I thought this day was a write off, and I think the BoM did too. It appeared as though there was insufficient moisture for storms and a strong cap, although instability was certainly favourable. I was surprised to see some very high based, low topped storms develop during mid afternoon, although these never really got going. But by evening an STA was issued for some decent convection near Grafton. I was quite surprised to see it move into my area and give hours of amazing lightning bolts! Frequent cloud-to-ground lightning allowed for some great lightning photo opportunities well into the early morning! Definitely the best lightning display I had seen.
Wednesday 13th November 2002
The stalling trough system that was responsible for the great lightning display on the Sunday night again produced some great lightning, although storms were incredibly slow moving as there was very little wind shear, typical of the season. The lightning was nice, but not as good as the Sunday night before. Still, it really was feeling like the storm season was well and truly underway.
Friday 15th November 2002
The stalling trough was to give it's last storm to the Northern Rivers region this day. Unfortunately the trough moved through earlier than hoped, and so severe rain storms developed around 11am, giving flash flooding conditions to Alstonville. Many streets became waterslides as gutters overflowed and spilled onto the roads. The slow moving nature of the storm allowed higher rainfall totals, although the isolated nature of the storm meant it missed the official Alstonville gauge. The storm continued up coast giving some nice lightning and thunder as it moved on. SE QLD again scored some great storms.
A week long storm chasing holiday saw us finally get a storm on the Northern Tablelands during the afternoon. Although storms were not severe we saw a few cells that brought some welcome heavy rain to the area. The storms did have some nice structure with them which was enjoyable to watch. Once again, almost no shear meant storms moved very slowly.
A severe squall line moved into the area around midnight. This bought very heavy rain but by the time it reached me (the crazy midnight storm chaser) it had weakened to just some rain. By morning the trough was well positioned close by, however convection started quite early. Michael Bath, Rodney Wallbridge and myself were out chasing by 11am!! Numerous storms formed, some producing large hail, damaging winds and heavy rainfall, as suggested by the STA. A severe storm we were ready to intercept weakened as a storm to it's north interacted with it's inflow, cutting off it's supply of warm moist air. Once again, you guessed it, severe storms developed in SE QLD producing some decent hail and severe winds. We got to watch the rear end of one of these storms, but the SE QLD storm chasers got the best of them.
One of my best chases for the season! I had paid attention to the next day, not this day and so was surprised to see updrafts develop whilst travelling to Lismore. Today was probably the first day in ages with some alright shear speed and direction. The first cell was weak, but later in the afternoon a stronger cell developed just SW of Casino. It was quite high topped and had a well defined, think anvil with mammatus. I chased this cell to the Tregeagle/Tucki area, witnessing a well defined, high based guster. This cell produced some hail and severe winds over 100km/hr, snapping large trees off their bases and removing rooves off houses. It was odd that the storm moved SE when it initially was moving NE as other storms that day had. Certainly was a great surprise chase anyway!
This day saw a particularly severe squall line that stretched well into QLD. A broad surface trough moved ahead of a strong ridge into NE NSW and an upper trough advanced through central parts of the State. The day was very warm, humid and very hazy, so it was difficult to see the storms visually. Radar indicated late in the afternoon that a few cells were developing locally, dropping some small hail and heading SE. Shortly after this the western sky grew very dark, and before we knew what was going on, a large gustfront appeared out of the haze and moved towards us with incredible speed. There was an amazing roaring noise as the storm approached, and we lost power before it hit. It smashed through the area with 90km/hr gusts, and I witnessed an amazing gustnado (weak tornado on the gustfront) near the local TAFE. By the time the storm reached Ballina, the storm had really intensified, with a well defined gustfront and winds over 100km/hr taking rooves off homes and causing significant damage. A large number of homes experienced blackouts.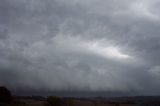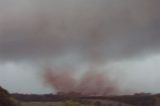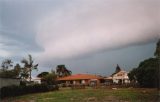 3rd photo by John Bath from Ballina
Sunday 15th December 2002
An STA issued around lunch time saw Michael Bath and I fly out the door to head towards some convection which looked rather weak on radar near the Casino area, although it was early. It quickly died however, and we were left at Parrots Nest watching a large fire that had started near Baggotville. It looked like a tornado when congestus, complete with pileus formed over it! After this more convection developed towards the Kyogle area. After heading there we watched updraft after updraft go up but nothing solid developed. We were left chasing a weak storm near Lismore that gave some nice CGs and some heavy rain. We certainly didn't see anything severe, but there was plenty to watch!
This was the day! Michael Bath and I finally got to witness a High Precipitation Supercell! The afternoon started out with plenty of large cumulus and congestus around the region. Some slightly more organised cells were heading towards the Casino area but weakened as they passed west of the town. By the time they reached the QLD border, they re-intensified (I didn't see that coming......). But some stronger cells near Grafton rapidly intensified and headed NE towards the Coraki/Lismore area, much to our surprise. The storm had a massive shelf cloud and was producing insane amounts of pulsating CGs. It dumped torrential rain on the area, as indicated by the large red core on radar and in isolated areas caused significant wind damage. The Lismore AWS recorded wind gusts over 100km/hr. 30 homes in the Lismore area received significant damage, including rooves being taken off and trees falling through rooves. 5000 homes were without power, some not being restored until late Christmas day.
Santa was kind enough to deliver some heavy precipitation storms to the NE NSW region this day. Storms were generally slow moving and the very moist atmosphere allowed for some very heavy rainfall from the storms. I got to go out on a Christmas day storm chase and enjoyed watching the nice lightning and hearing the deep booms of thunder that came from the very heavy shaft of rain. As the evening came numerous small thunderstorms developed throughout the region, bringing much needed rain.
This day looked very marginal, with LIs around the 0 to -2 mark and CAPE around 400-800, not to mention the very dry nature of the atmosphere.....again! Very weak storms did develop and tracked in a mostly NE. After heading out to chase at Parrots Nest with Michael Bath, things at first looked very weak, with very little rain falling from the high based, low topped storms. However a RFB developed and soon CGs were dropping from the now heavy rain shaft. After driving to just east of Casino, a beautiful arcus type cloud developed with some very heavy rain, then developing into microburts. It was a great display, and weakened soon after passing Casino. This was not the end of the show. Just as dusk came, more storms developed and moved into region producing some amazing lightning. Initially the first storm didn't bring a large amount of CGs, but by the time the fourth storm moved over the Evans Head area, it was dropping frequent, massive, highly-branched CGs. It was an amazing 4 hour show that was one of the best storm that chasers had ever seen!
A trough had stalled just between Grafton and Evans Head, so there was some hope of a decent storm chase day. However the cap was really strong, and the moisture profile wasn't overly ideal. Michael Bath, Rodney Wallbridge, Anthony Cornelius and myself waited in temperatures of over 40C along the Richmond Ranges for 2 hours before the cap finally broke and some low precipitation storms developed. We were then treated to 3 storms from the the W round to the N, and chased a storm to our NW to past Kyogle. It gave an intense CG display as we watched just outside Kyogle, and a home at Bonalbo lost it's roof in severe microburst winds in excess of 100km/hr. Hope of a night time lightshow was destroyed as a weak southerly change moved through the area.
A stalling trough had provided storms for the last couple of days along the Northern Tablelands. Deciding to join in on the action, a friend and I drove up to Tenterfield to chase the region. We experienced some small hail, around 1cm from a developing storm. Lots of convection developed along the Tablelands and soon a severe line of storms was moving in a northerly direction towards Tenterfield. This storm caused some damage and blackouts in the Glen Innes region. It weakened as it reached Tenterfield, and the bulk of activity moved into S QLD.
-2 to -3 LIs and 1200 CAPE along with 180 degree turning of the winds produced a beautiful but unexpected supercell. Storm cells developed right through the Northern Rivers and into SE QLD, but a cell SW of Casino began developing supercell features around 5.20pm - including a v-notch on radar and in it's final stages a massive red core on radar. The Northern Rivers chasers underestimated this cell and unfortunately left too late to intercept it, however were treated to some lovely, high contrast supercell structure. A nice February evening chase!
Saturday 1st March 2003
A very marginal day with too much upper level moisture and very warm upper levels still allowed storms to develop in NE NSW and SE QLD. The storms that were chased in the Northern Rivers were very weak, producing very little lightning. A cell near Casino did maintain itself from W of Casino right through to the coast but never developed a well defined gustfront. Whilst chasing the Casino cell, a cell further north near Kyogle became visible and looked to have a massive gustfront, however there was no way Michael Bath and I could reach it in time. The cells in the area did however produce very heavy rainfall, with some nice totals falling over a short period. In SE QLD a number of lines of storms developed producing some very photogenic shelf clouds that was thoroughly enjoyed by the SE QLD chasers.
A cold pool with 500 temps reaching around -15C in the Northern Rivers provided some interesting weather this day. Storms were mostly very low topped and fairly weak. Chasing up on the Northern Tablelands, Michael Bath, Rodney Wallbridge and myself encountered a cell with small hail and torrential rain just east of Tenterfield. We managed to stay in the core for almost 40mins whilst travelling east, encountering occasional bursts of 5mm hail! What was actual occurring was a line of storms was forming along the ranges right down to near Dorrigo and an STA was issued. We later watched a cell with heavy rain, strong winds and possibly hail pass just west of Mallanganee before heading to Casino to watch some great visual features from another cell to the south. It died before it reached the Evans Hd area where we thought it's NE movement would take it.
Thursday 20th to Tuesday 25th of March 2003
A stalling trough system gave a bag of exciting weather over the 6 days it was in the area. Thursday saw offshore Cbs and small waterspouts in the morning along with a squall line that travelled from near Moree to the western Northern Rivers area. A hailstorm also lashed the Central Coast of NSW.
Friday had high expectations with LIs -6 to -8 and Cape over 2000 nearby, but a stronger than predicted cap put an end to any severe activity in NE NSW, however a small LP storm developed with structure consistent with a supercell, but it collapsed when Rodney Wallbridge and I reached it. Storms fired late in SE QLD giving them a squall line with massive gust front and plenty of lightning.
Saturday saw widespread severe storms develop over NE NSW in the afternoon, with some particularly severe storms (once again one was probably a supercell) affecting areas around Casino and Lismore. The cells produced hail between 2-3cm, however 4cm stones could have occurred near Lismore. Michael Bath, Rodney Wallbridge and I were then treated to a phenomenal lightning display with contrast strobing lightning, lightning up some great structure and possible corkscrew updrafts.
On Sunday weak cells developed early afternoon, but one cell S of Casino went severe around 4pm and tracked just W of the town with a great guster and 2cm hail, along with very heavy rainfall and gusty winds, all experienced by Michael Bath. SE QLD also saw severe convection.
Weak cells formed on the ranges on Monday, with nothing going severe. Tuesday however was different, with a severe storm developing near Tenterfield and tracking into S QLD. The cell maintained a red core for some time on the outer limits of radar, leading us to believe it was a particularly severe thunderstorm! What an amazing system this was!!
The North Coast of NSW experienced one of the biggest structured High Precipitation Supercells ever photographed in Australia on this day. The structure of this beast in the Coraki area was overwhelming - similar to the giant HP Supercells in the US. The supercell unleashed winds over 100km/hr, hail up to golf ball size and very heavy rainfall. Fortunately the storm did not pass through any major townships and so damage was confined to large trees down, rooves off a number of rural homes and a few smashed windows and car windscreens. This storm chase was certainly the best in terms of organised structure that Michael Bath, Rodney Wallbridge and myself have been on. The shear size of the storms gustfront and mesocyclone area was unbelievable. There was also the excitement of finding hail drifts in the Bangalow area the next morning! This day was certainly the highlight of the 2002/2003 storm season, and it is incredible to think it happened on the 2nd last day of March!
Thursday 3rd April 2003
Still recovering from the amazing HP Supercell only 4 days earlier, we were treated to a more relaxing afternoon thunderstorm in the Northern Rivers. A few weak cells developed in both NE NSW and SE QLD and an STA was issued by the BoM for heavy rain, strong winds and hail. The storm encountered at my home in Wollongbar only produced some light rain and was fairly featureless, however it did produce some nice CGs and deep booming thunder which was lovely listening too whilst sitting on the veranda watching the show. It was almost enjoyable having a break from the usual frantic rush involved in our last few storm chases.
---